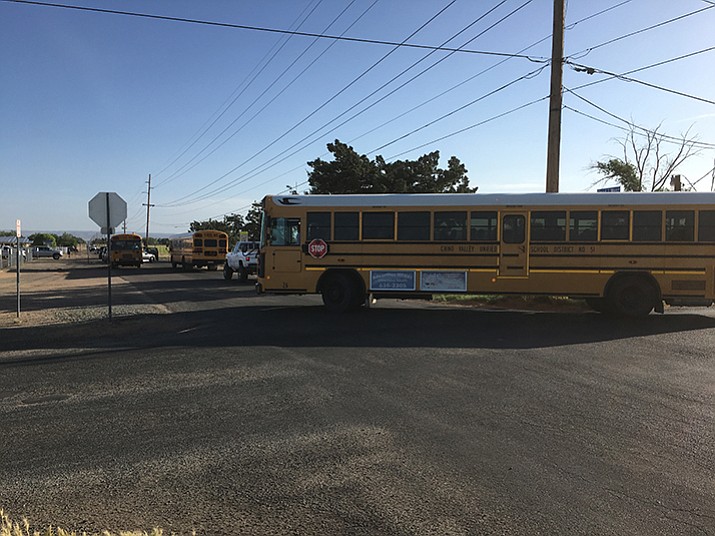 Originally Published: May 10, 2017 6:02 a.m.
For a small piece of property at the southeast corner of Del Rio Elementary School encompassing only 3,603 square feet, the acquisition of the right of way and temporary construction easement makes for a tremendous amount of paperwork for school board members to study.
Chino Valley Unified School District governing board members' packet included about 85 pages of information, most of it the Appraisal Report by Loper & Associates. After discussion, the board unanimously approved at the May 2 meeting a resolution to permanently convey the right of way to the town for $2,000 in order to construct roadway improvements at the intersection.
The construction, planned for July, will increase safety for drivers and pedestrians at the northwest corner of Road 2 North and Road 1 West where buses enter the school property.
When a school bus needs to make a right turn off Road 2 North onto Road 1 West, it needs the entire span of the road to do so. When Del Rio and Heritage Middle School have students arriving and departing, traffic can get heavy. A bus cannot make the turn if there are cars in the area.
The improvements will add a third lane, making it possible for a bus to make the turn without disrupting southbound traffic.
When the $200,000 improvement project came before the board, the project was divided into two $100,000 projects, one to take place during the Fiscal Year 2016-17 and the other half for FY2017-18.
Superintendent John Scholl explained that the Arizona Schools Facility Board (SFB) needs to approve all projects. He recommended the board to reauthorize the first $100,000 that will remain in the budget.
"The cash stays, we just lose the ability to spend it (in this fiscal year)," Scholl said, adding that the district has already collected the money through taxes.
The project was scaled back from its original design after the SFB had to approve it. Initially, the intersection had bus lanes constructed behind Del Rio. That is on hold at the moment, Scholl said.