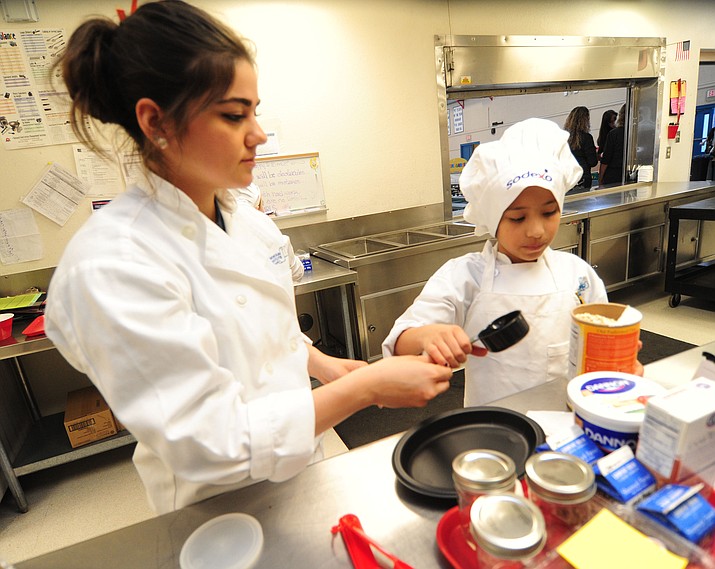 Photo by Les Stukenberg.

Originally Published: March 15, 2017 6 a.m.
Six young chefs. Six recipes. Six mentors. Six trays of food. Six sets of cookware.
All in one kitchen — with hot skillets, sharp knives, measuring utensils, and no shortage of flash photography.
No this is not a new reality television chef series. This is the second annual season of Chino Valley's Future Chefs Challenge hosted at Del Rio Elementary School by Sodexo, the school district's food service provider.
On Thursday, March 9, the school kitchen was filled into a cacophony of children's voices clamoring to be heard as pots and pans were moved from spot to spot, the sizzle of butter striking a skillet and curious parents shouting out encouragements to the six finalists of third-, fourth- and fifth-graders preparing "healthy comfort food" for a panel of judges. These six were selected from a field of 35 students who submitted healthy comfort food recipes for consideration in the competition.
A group of Mountain Institute JTED culinary arts high school students served as the student' mentors as they set up their stations and prepared their dishes that included such things as Southwestern breakfast burritos, a strawberry yogurt-flavored "overnight oatmeal," baby turkey pot pies and a grilled turkey melt. The mentors guided the young chefs through proper food preparation protocol — hand washing and gloves to start.
At some points, the mentors offered hands-on assistance, but for the most part they let their young charges crack the eggs, slice the meat and layer the tortillas with cream cheese and other such ingredients for those offerings.
"I think it's great," said fifth-grader Isaiah Thomas of the cooking challenge as he prepared to dazzle the judges with his version of a baby turkey pot pie.
With flourish and expertise, Isaiah chopped up his ingredients and tossed flour into the skillet, stirring ever so gently and consistently to make certain there were no lumps in the batter.
Asked if he has a favorite chef, or cooking influence in his life, Isaiah quickly responded, "My Dad."
"He's my favorite chef. He's my role model," Isaiah said.
Fourth-grader Ava Smith, preparing a breakfast burrito, said she felt proud to be a finalist in the competition, selected from a field of 35 young chefs to perform to cook in the final challenge.
She said she is no novice to the kitchen.
"I cook all the time," Ava said. "I just like to make food that tastes good."
Within an hour, the young chefs had completed their culinary process, and were ready to present their dishes to the judges. First place was awarded to third-grader Kaylee Markgraf; second place was given to Isaiah and third place to Ava. The other three contestants were Johnny Barrios, fifth grade, Ava Jaime, third grade, and Jackson Hawks, fourth grade.
"I think this is fantastic," said mentor and Chino Valley High School student Garrett Thompson of the challenge that is part of a national Sodexo imitative started seven years ago. "It gets the kids to be active, and used to things in the kitchen. And they learn how to work together."
Fellow mentor Maria Garcia, working with Isaiah, said she was impressed with the students' enthusiasm and found the experience to be a true confidence builder. Not to mention a lesson in healthy food choices.
"They're going to keep going," she said.