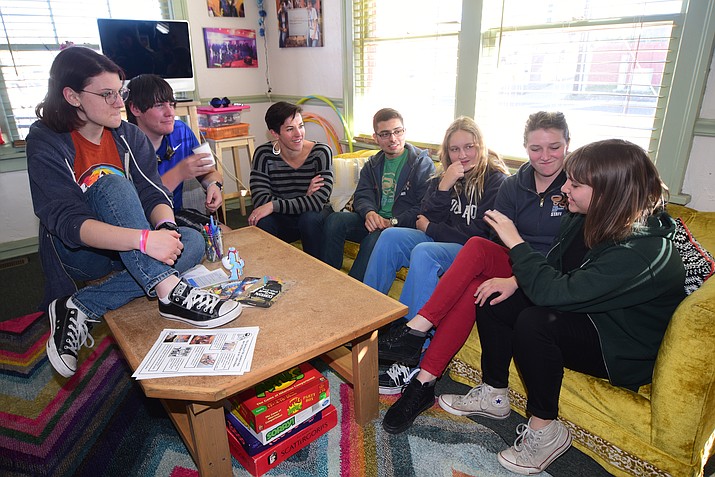 Photo by Les Stukenberg.

Originally Published: March 10, 2017 6:01 a.m.
How to Talk Teen tips
• Set an appointment and intention for a talk – no one likes surprises
• Determine the best setting for a talk
• Be prepared – be calm, curious and present
• Name the issue to tame the issue
• Connect and then redirect
• Remember this stage is all in preparation for leaving home
The Launch Pad Executive Director Courtney Osterfelt has been a teen advocate for some 15 years.
She knows their quirks, their strengths and their struggles.
Yet even she admits there are times when she wrestles with how to speak teen.
Prescott mother Miriam Krock has always enjoyed a strong bond with her now teenage son and wants to retain that as he navigates middle school and high school so she wants to know how to speak teen.
Both of these women, as well as a couple other parents and professionals who work with teens, attended a recent seminar titled "How to Speak Teen," sponsored by the Launch Pad Teen Center, the Granite Mountain Psychological Society and the Prescott Unified School District Family Resource Center.
Local therapist Stasia Rivera, who specializes in addiction and trauma with both teens and adults, offered them insights into the brain chemistry and traits of teenagers that can allow parents and other adults to speak their language.
Rivera, the mother of two younger children, said her goal is to offer simple techniques that enable parents and other adults to weather the teen years so that everyone is speaking the same language.
Ask any parent of a teenager whether there have been times when they think a foreigner has moved in, and the answer will be a strong affirmative, Rivera admits.
Yet that does not have to be a negative, she said.
Teen behavior, and their ever-fluctuating emotions and search for new experiences, is all about becoming independent, Rivera said. The key for parents is to be able to stay with them on the journey, she said.
Osterfelt said she is usually pretty in tune with teens, yet she has found herself wrestling with how to treat one particular client who on one day seems open and engaging in activities, but then will suddenly close off and back away from any interaction. Osterfelt is certain the teen is wrestling with some kind of issue, but as much as she tries to gain her confidence, the teen refuses to share.
Rivera's advice: be present, but don't push.
Unlike younger children who may seem eager to please parents, teenagers want to create their own identity, and will become belligerent or entrenched in a position when they don't feel that is allowed, Rivera said.
"We don't put ourselves into their shoes," Rivera said.
A big part of fostering appropriate teen speak is to actually listen with an open mind, and in a calm tone of voice, and then do what Rivera described as "name it to tame it," and "connect to redirect," Rivera said.
If a teen is angry, a parent is best to "name" what they observe as a means to diffuse the situation, Rivera said. But it might require letting the teen be alone for a time, or encouraging them to go on a walk, or maybe create a distraction: go shopping, cook a meal together, or engage in some type of outdoor recreation, she said.
What will not work is for a parent to demand the teen snap out of it, she noted.
"Have you ever seen someone calm down because someone told them to calm down?" Rivera asked.
In the finale, Rivera advised parents to stay curious about their teens' lives, set boundaries that are rooted in growth and safety, be with them rather than do for them, and admit mistakes.
"Get on their turf, touch the grass. Get them to tell you how life is for them," Rivera said. "And quit thinking you have to do it perfect … we learn as we go."