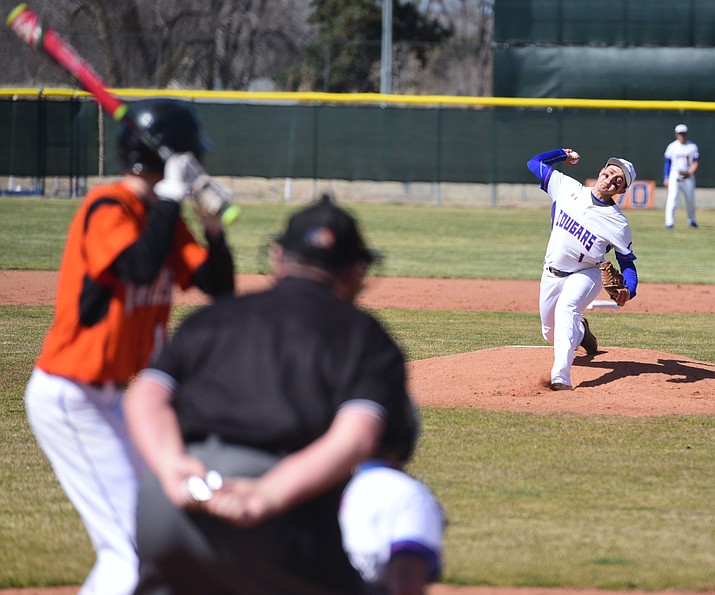 Photo by Les Stukenberg.
Originally Published: March 8, 2017 6:05 a.m.
Three days after Chino Valley's baseball team was supposed to have opened the 2017 season, Cougars right-handed ace pitcher Skylar Brooks made up for it with a dominating all-around performance.
On a pleasant Friday afternoon, March 3, at Nesbitt-Pratt Field, Brooks registered an astounding 18 strikeouts and allowed only two hits in 6-2/3 innings, guiding the 3A hosts to a 6-2 victory over 1A Williams.
Brooks, who faced 24 batters, struck out the side in the first, third, fifth and sixth innings. And he fanned two apiece in the second, fourth and seventh frames. Brooks issued just two walks. His lone hiccups were allowing an infield single to lead off the second inning and a triple to start the seventh.
"I was definitely feeling it, and just trying to be confident in knowing that if they do hit the ball, my defense has got my back," said a grinning Brooks, his throwing shoulder iced, afterward. "We're all definitely pumped up coming off a win like this."
The Cougars had two games scheduled to begin the campaign this week. But Tuesday's home contest against Sedona Red Rock was rained out and cancelled.
Chino coach Mark Middleton said Brooks, a four-year letterman, had trouble spotting his off-speed pitches to open the game, but credited him for working through it. Brooks threw 104 pitches.
"His fastball was dominating and he was changing speeds perfectly," Middleton said. "The only reason why he got this start was because of the rainout on Tuesday. I wanted him, as a senior, to start opening day."
Williams plated its first run in the fourth inning on an error and its final run on a wild pitch with two outs in the seventh. Chino's Jayden Loftin faced only one batter in relief. He fanned Vikings starter Frankie Kramer on five pitches to end it, as 19 of Williams' 21 outs came by strikeout.
"We just haven't seen live pitching — kids going out of their zones trying to hit the ball," said second-year Vikings coach John Thatcher, whose squad lost 11-3 in its opener at Kingman Feb. 25. "Their kid [Brooks] did well working the ball up in the strike zone, and we kept going after it. We couldn't catch up to it."
Chino senior catcher Johnny Gilbert, a third-year varsity letterman, said Brooks dominated.
"Skylar can place the ball better than anyone else on the team — with his curve and his fastball and everything," added Gilbert, whom Brooks credited for solidly framing his pitches. "I love watching him strike people out, so it was pumping me up for sure."
Brooks didn't come to the park solely to pitch on Friday. In addition to his heroics on the hill, Brooks went 3-for-4 with a two-run home run and a two-RBI double at the dish. He came within a triple of a cycle.
Gilbert (3-for-4, two doubles, run scored) and Loftin (2-for-4, two RBIs) aided in the effort offensively for Chino, which compiled 12 hits.
The Cougars claimed a 3-0 lead in the third inning on Brooks' two-run double off the left-field fence. Loftin followed two batters later by lining an RBI single against Kramer, who took the loss in four innings (three runs on seven hits, two walks, two strikeouts).
Chino didn't double its lead to 6-1 until the back-breaking sixth when Brooks torched his homer to left off Williams left-handed reliever Joe Zabala. Loftin then drove in Tyler Hixon from third, after Hixon's stand-up triple to right-center, on an infield sacrifice.
Despite the win, Middleton said he didn't like a few of his team's base-running mistakes and its subpar approach at the plate. He also doesn't want to lean too heavily on Brooks for victories.
"I'm chalking it up to the first game of the year," Middleton said. "We were so overanxious [with our hitting]. We really wanted to create a lot of stuff. We don't want to ever lose a game by bad base-running, and we almost lost that game because of bad base-running."
After the game, all eyes remained fixed on Brooks. With the team huddled around Middleton on the left-field line, the coach gave Brooks a boisterous "Thatta boy!!!" for his showing.
"I can't say enough about just how he carries himself," Middleton said. "He doesn't take anything [bad] out on the field with him or to an at-bat with him."
UP NEXT
Chino Valley (1-0 overall record) visited county rival Camp Verde (7-0) of the 2A ranks at 3:45 p.m. Monday, March 6.
Williams (0-2) played host to Seligman for its 1A Central Region-opening doubleheader at 1 and 3 p.m. on Tuesday, March 7.