Originally Published: March 8, 2017 6 a.m.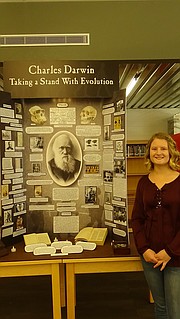 Chino Valley High School students are "Taking a Stand in History" and taking a trip to Arizona State University April 1 to participate at the state level in the National History Day competition. Regionals took place Feb. 25 at Lee Williams High School in Kingman.
The theme, "Taking a Stand in History," provided 28 students with history projects ranging from the Salem Witch Trials to Title IX. Twenty-one students qualified to go on and will compete at the Arizona competition with a chance to advance to the national competition at the University of Maryland in June.
"All of these students will be improving their entries based on feedback they received from judges at the regional competition, with the goal of placing first or second at the state competition to qualify for National History Day Nationals in June," said Scott Sloat, CVHS Social Studies teacher.
Qualifying students and their topics are:
Individual Website: Phoebe Dunn on Winston Churchill.
Group Website (2): Wyatt Dodds, Jeff Shumate, Chase Call on Jonas Salk. Mya Pullins, Savannah Crowder, Alexis Maston on Eleanor Roosevelt.
Group Exhibit (3): Amanda Ward, Hannah Finley, Taylor Knippenberg on the Salem Witch Trials. Jordyn Woodburn, Marycarmen Olguin, Megan Madlkock, Angelina Kirkpatrick on Elizabeth Cady Stanton. Addie Daniels, Becca Ballard, Lauren Joseph, Alyssa Feipel on Oppenheimer.
Group Performance: Abbie Golden and Danielle Peterson on Title IX.
Individual Exhibit: Kaelyn Darst on Charles Darwin.