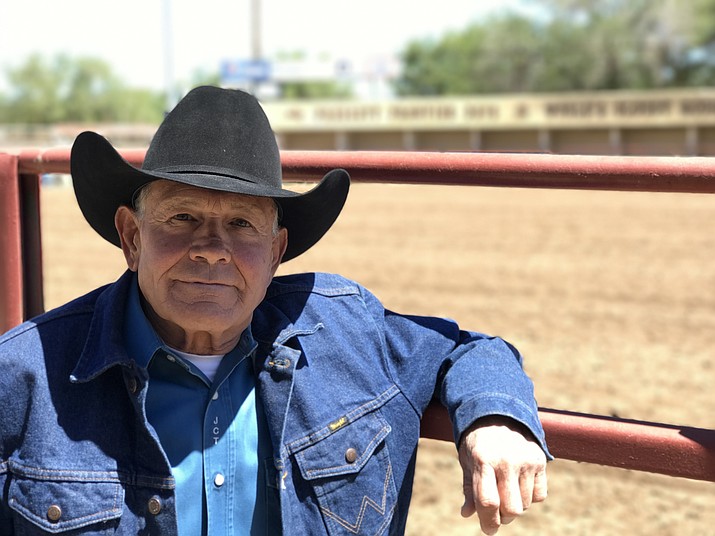 Originally Published: June 28, 2017 12:15 a.m.
EDITOR'S NOTE: This article is part one of a three-part series featuring members of the "Legends Live Among Us" honored by the 130th annual World's Oldest Rodeo.
From an early age, J.C. Trujillo set out to become a rodeo world champion, but it took a whole lot more than just talent to get him there.
So when he became a bareback world championship rider in 1981, Trujillo credited not only his drive to succeed and the work it took to get him there, but the very goal itself: Become a champion.
"I set some goals early in life. One was to be a rodeo world champion. I dreamed about that, and I worked at it for years and years," Trujillo said, adding that his approach was no different than a champion boxer or Super Bowl-winning quarterback.
Basically, he ate, slept and drank rodeo.
"I remember telling the guys in high school that I would become a world champion one day. … I was lucky enough and blessed enough to make a lifetime dream become a reality," Trujillo said.
As the son of a rancher and rodeo legend in Prescott, Trujillo had a lot to live up to. He entered into his first World's Oldest Rodeo by the time he was in kindergarten.
"I was 6 years old and kind of a cry baby," Trujillo admitted, adding his father was signing his older brother up for the junior rodeo. He begged his father to sign him up, too.
"He made me promise I wouldn't cry if I got entered," Trujillo recalled. "I remember riding that calf down through there and him jerking my neck around. You rode with two hands then, when you're a little kid."
Trujillo took second place in the event, winning $10.80.
"I never thought I'd see another poor day," Trujillo said with a big smile.
The 1966 Prescott High School graduate was a football and track star for the Badgers, but Trujillo knew rodeo was his path.
He attended Arizona State University on a rodeo scholarship and won a National Intercollegiate Rodeo Association title in 1968, and by 1972, was a member of the Professional Rodeo Cowboys Association full time.
Trujillo spent much of his professional career ranked in the Top 10 and qualified for 12 national finals. If that wasn't enough, he still owns the record for most bareback championships (five) in 130 years of competition at the World's Oldest Rodeo.
Now 69, and general manager at Prescott Frontier Days, Trujillo has come full circle.
"I was selling popcorn and peanuts as a kid in the same grandstands as the rodeo is now, so it's great to be part of the history that this rodeo has," Trujillo said, adding his father was a great influence on his life.
"My brother (Frank) and I grew up wanting to be cowboys, because my dad was," Trujillo said.
And now he passes that on to his grandchildren.
"I still try to preach … be positive, set goals and set goals high enough," Trujillo said. "In any phase of life, you have to set your goals high and have enough internal fortitude to make them become a reality."
Brian M. Bergner Jr. is associate sports editor and a columnist for The Daily Courier. Follow him on Twitter, Instagram, Periscope and SoundCloud at @SportsWriter52, or on Facebook at @SportsAboveTheFold. Reach him at bbergner@prescottaz.com or 928-445-3333, ext. 1106.