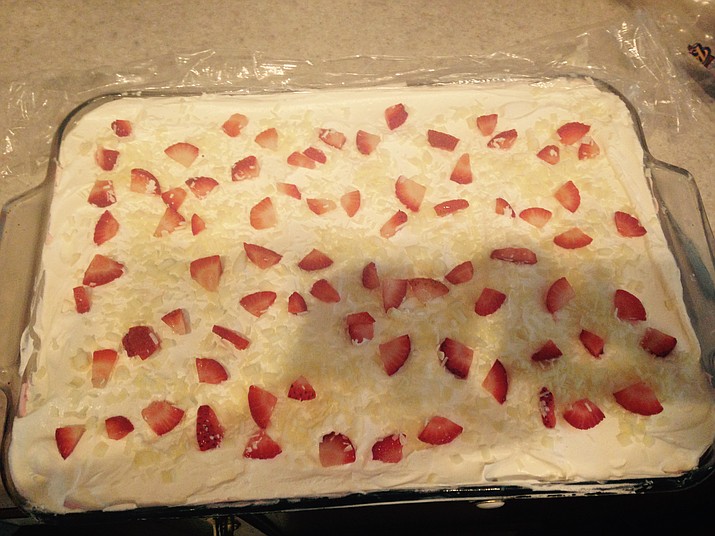 Photo by Diane DeHamer.
Originally Published: July 11, 2017 6:01 a.m.
My daughter Nicki and her 10-year-old daughter Lainie, had a great time making this delightful dessert together for our Fourth of July celebration. It is light and creamy and a tasty way to end any summer meal.
Strawberry Lasagna
Crust:
36 Golden Oreo cookies
1/2 cup butter (melted)
Crush cookies to fine crumbs, mix in melted butter until blended. Press into a 9-by-13-inch pan. Set in freezer to get firm.
Strawberry Cheesecake Layer:
8 ounce cream cheese (softened)
1/2 cup butter (soft)
1 cup powdered sugar
1 cup whipped topping
1 1/3 cup diced fresh strawberries
In a large bowl, cream 1/2 cup soft butter, soft cream cheese and powdered sugar until smooth. Add 1 1/2 cup whipped topping, and mix.
Gently fold in diced strawberries and spread mixture over crust. Place back into fridge.
Strawberry Jell-O layer:
3 ounce strawberry Jell-O
1/2 cup boiling water
1 cup strawberry Greek yogurt
4 cups whipped topping
In a separate bowl, place Jell-O and boiling water and stir to dissolve. Whisk in 1 cup strawberry yogurt and stir well.
Add 3 cups whipped topping mix until well blended. Pour this mixture over cream cheese layer and smooth top.
Refrigerate for 2-3 hours until set
Topping
2-3 cups whipped topping
4-5 ounce white chocolate bar
1/2 cup diced strawberries
Spread whipped topping on top sprinkle with white chocolate curls, and diced strawberries. Refrigerate 2 more hours.