Originally Published: July 10, 2017 6:05 a.m.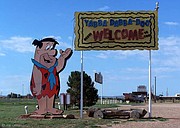 Uncommon things for children and teens to do this summer
Flintstone's Bedrock City: A theme park and campground in Williams, Arizona. For information: 928-635-0669. Website: www.bedrock.com
Mini Time Machine Museum of Miniatures in Tucson, Arizona. A museum of 400 miniature houses with hands-on activities and crafts for children. For information, call 520-881-0606. Website: www.minitimemachine.org
Sharlot Hall Museum's new exhibit "Prescott Culture" in Prescott, Arizona. A new museum exhibit featuring ancient culture. For information: 928-445-3122. Website: www.sharlot.org
Fain Park in Prescott Valley; the Fitzmaurice Ruins: Prescott Valley Park and Recreation Department. A trail to discovered ancient ruins of a 30-room pueblo. For information: 928-759-3090. Website: www.pvaz.net
Watson Lake Disc Golf Course in Prescott. A sporting event for families. For information; 928-777-1122. www.cityofprescott.net
Launch Pad Teen Center summer camp in Prescott. Openings still available for The Real World Preskitt: A Lifeskills Adventure Camp from July 17 to July 22. For information: 928-632-2996. Website: www.launchpadteencenter.org
Yavapai College' College for Kids--Summer 2017. Various courses and camps. Some openings available. For information: 928-717-7755. Website: www.yc.edu
Embry-Riddle Aeronautical University: College tours for middle school and high school students; campus open to community year-round. For information:928-777-6600.Website: www.prescott.erau.edu
Prescott College; café open to the public. For information: 877-350-2100. Website: www.prescott.edu/
Paisley's in Prescott – Chalk art classes for all ages. For information: 928-277-1052. Website: www.facebook.com/paisleysinprescott
Yabba dabba doo!
Fred Flintstone's trademark exclamation from the 1960s Hanna Barbera cartoon seems the perfect sentiment for those celebrating that summer is not yet over; there is still a lot more to do.
One of those things just might be a visit to the Flintstones Bedrock City theme park and campground just 30 miles away from the south rim of the Grand Canyon. The now 45-year-old cartoon-themed, roadside attraction at the junction of Highway 64 and Highway 180 in Williams costs just $5 per person to enter and is sure to bring a smile to old and new Flintstone lovers.
This park is far more subdued than Disneyland, but its history and connection to a unique brand of beloved, family entertainment is worth a stop. For certain, the quite affordable visit could be paired with a more standard destination vacation to Arizona's greatest attraction, one of the most visited Seven Wonders of the Natural World.
Prescott Valley mother and Girl Scout troop leader Shauna Manning has never been, but is always on the lookout for uncommon, affordable places to take her three children aged 11, 9, and 5 that are fun, educational and likely to build lasting memories.
Bedrock City might just fit the bill — and its current owners are seeking to sell the 30-acre park so sooner than later might be the time to stop and snap pictures next to one of the main characters -- Fred, Wilma, Barney, Betty, Bam-Bam and Pebbles -- or sit in the stone, foot-pedaled cars. Families can bring a picnic or buy an inexpensive meal at the on-the-premises Fred's Diner with its famous Gravelberry Pie.
"Way cool -- that sounds really fun," Manning said of the attraction.
This weekend, Manning's family plans to take in a tour of Arcosanti, an experimental town about an hour away near Cordes Lake. The community offers intriguing architecture and a molten bronze bell casting business.
"I'm on a constant search for uncommon things to do, for sure," she said, noting a friend just suggested a trip to the Prescott Valley-based Armadilla Wax Works Candle Factory, where children can make their own candles.
Local libraries are always a constant source of intriguing summer activities that blend together literacy with music, art and performance. Area colleges, too, present interesting opportunities. Yavapai College has a sculpture garden where Manning said she has taken her kids to play and have a picnic. They, too, have the College for Kids summer programs.
Embry-Riddle Aeronautical University and Prescott College also welcome folks on their campuses, be it for no-cost informal or formal tours.
"I like to tell folks we have no gates or guard shacks at ERAU!" said Jason Kadah, the university's director of marketing and communications. "Whether it's our athletic events, educational talks such as our aviation history presentations, walking the beautiful campus, or having lunch at Earhart's, our on-campus dining facility, the community is always welcome."
The university is particularly excited about the impending opening of our brand new, state of the art STEM Educational Center and northern Arizona's only planetarium, Kadah said. The planetarium is scheduled to open in mid-August with community events scheduled to start in the spring.
When it comes to other less common activities for kids and teens, Watson Lake in Prescott offers a disc golf course, a sport played with a weighted, Frisbee-type device. There is a $3 daily park fee – free on Wednesdays.
Local parks and recreation departments offer a variety of leisure sporting activities, as well as classes in such things as pickleball, a racquet sport that combines elements of badminton, tennis and pingpong. Prescott Valley even offers a corn toss league; the cost is $30 for a team of two players for 12 weeks of games played at the Event Center.
In downtown Prescott, a new business on East Gurley Street, Paisley's, is offering chalk paint classes to both children, teens and adults. Owner Mary Ann Beck said she invites children to bring in a wooden toy they might want to paint; she can even teach them how to paint pottery or a ceramic piece. Classes are $65 for a two-and-a-half-hour session where she teaches technique, paint mixing, with the selected piece dried and waxed so that they can be placed outdoors.
For those seeking an uncommon educational experience, the Sharlot Hall Museum in downtown Prescott is a treasure trove of history, culture and fun spaces to explore. On July 1, museum leaders celebrated the newest addition, an exhibit called "Prescott Culture" that takes visitors back to a time period between 300 AD and 1300 AD in the Central Highlands of Arizona. The exhibit showcases the people who inhabited the area at that time and provides legend and lore about where they once lived.
For teens, the Launch Pad Teen Center still has openings for one of its summer camps that offer experiences found nowhere else. The Real World Preskitt: A Lifeskills Adventure camp focuses on building real-world skills that enables one to become an adult. Campers do scavenger hunts that require "bumps into real world problems" that require real life solutions, such as how to fix a flat tire, landing a dream job, or cooking a meal without burning down the kitchen. The camp is from July 17 to July 22; the cost is $150 with scholarships available.
Prescott Valley's Fain Park is a family-friendly place to hike, picnic and just relax on an afternoon, but by reservation people can travel down a short trail and tour the remains of what was a 30-room, pre-historic pueblo; known as the Fitzmaurice ruins as it was discovered by early settlers on land owned by G.s. Fitzmaurice. Artifacts from excavations that date back to the 1930s are on exhibit at Prescott's Smoki Museum.
A little farther from home is the Mini Time Machine Museum of Miniatures in Tucson. The whimsical home of some 400 miniature houses includes a 19th century British home, an Irish fairy-tale castle and a tiny Western streetscape complete with miniature animals on motorcycles. On the second Saturday of every month, from 1 p.m. to 4 p.m., children make take-home miniature pieces during the "Kids Create Family Fun Program."
"I definitely like to look for the uncommon, and the educational," said Manning who follows the same principles when seeking out activities for her Girl Scouts. "We go to the movies here and there, but I don't want to do that every week."
She said she much prefers to find, or even invent, activities that engage her children's imagination or spark their creative juices: her children just painted rocks to decorate the outside of their home.
"Anything that keeps them off the screen as much as possible," Manning declared.