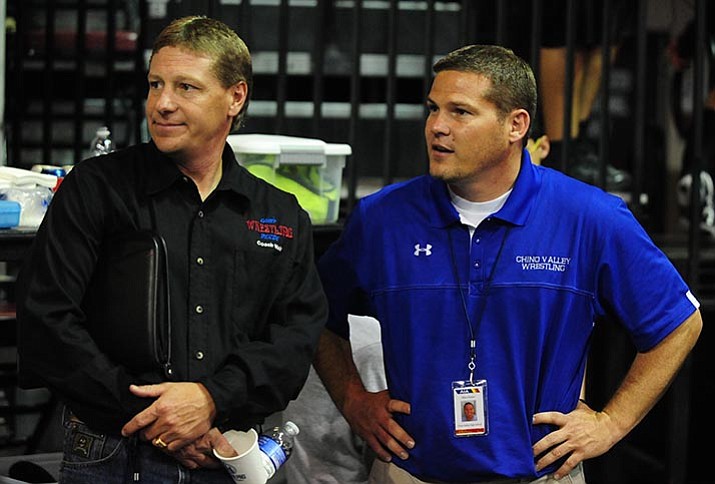 Originally Published: July 9, 2017 6:04 a.m.
Chino Valley High School's Allen Foster has resigned as the Cougars' wrestling coach after eight successful seasons, although he will remain the rejuvenated girls' soccer program's lead mentor and continue teaching on campus in 2017-18.
Foster, who guided the wrestling team to a state tournament runner-up finish in 2015 and to two section titles during his tenure, told The Daily Courier recently that he chose to step down a few months ago.
"I take pride in taking two programs that were in the cellar [before I arrived] and bringing them back to life," Foster said. "And I feel confident that the guys they've got there [for wrestling] now are going to do the same thing."
Foster coached five individual state champions in wrestling, the first and only ones in the program's history. Kevin Giese, a junior high coach, will take over as coach for Foster.
"It's just a good time to move on," said Foster, 43, who has coached either at the high school or middle school level for the past 23 years. "It's a tough sport to motivate kids to do. The amount of time and effort that it takes to produce a successful team — you've got to have kids willing to put in that same amount of time and effort. I was at the point where I felt like I was putting in more time and effort than the kids."
Although he resigned from wrestling, Foster said he'll stay on as a computer-aided design (AutoCAD) and drafting teacher at the high school and help the varsity program until it gets "everything squared away." Foster's assistants, Gordon Cobb and Shea Kendig, will serve on Giese's staff.
"I told him [Giese] I'd be glad to stick on and help him run the summer schedule," Foster said. "I'll still help with the Mile High Challenge [annual high school wrestling tournament at Prescott Valley Event Center]. It's my favorite sport. It's my love. Kevin's a real good guy. He'll do a good job."
The Cougars' girls' soccer team is the defending small-schools state champion and looks to repeat as the titlist this fall in the 2A conference ranks.
Foster's daughter, Lauren Foster, is one of the leaders on a loaded roster that packs punch on both ends of the pitch. Coach Foster's been working up to four days a week with his soccer team, which he says is trying hard and "should be real successful again."
"It's kind of time to just focus on coaching one sport," Foster added. "I thought I could be more productive.
"But I'm not leaving Chino. You'll see me in the stands. I'm a fan of wrestling, so I'll just be there in a different capacity. I'll be there in my Chino wrestling shirt hootin' and hollerin'. I just won't be down on the mats taking the heat."