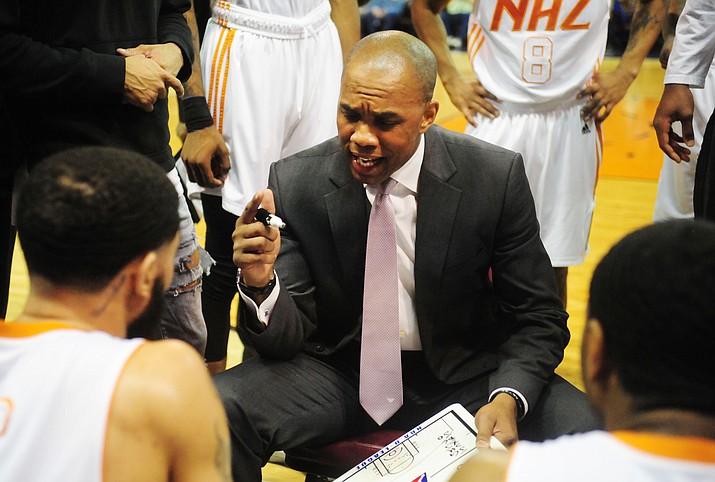 Photo by Les Stukenberg.

Originally Published: July 7, 2017 6:01 a.m.
Three months after his first season as the Northern Arizona Suns' head coach ended, Ty Ellis on Wednesday was named an assistant for USA Basketball's men's national team this summer at FIBA AmeriCup 2017.
Ellis, 39, of the NBA G League's Suns, will work under former New York Knicks and Houston Rockets coach Jeff Van Gundy, head coach of the national team for FIBA AmeriCup 2017 and the FIBA World Cup Qualifying games.
Veteran international coach Mo McHone joins Ellis as an assistant for USA's AmeriCup team.
"I want to thank my wife and family for their support, and everyone involved for this wonderful opportunity," Ellis said in an NAZ Suns news release. "I feel truly blessed and honored to be a part of USA Basketball."
USA teams will compete at FIBA AmeriCup from Aug. 25 through Sept. 3, in the South American countries of Argentina, Uruguay and Colombia.
USA is scheduled to play a series of three games in Montevideo, Uruguay, against Panama Aug. 28, Uruguay Aug. 29, and the Dominican Republic Aug. 30.
If the U.S. Men's Team advances to the AmeriCup semifinals, the squad would play in Cordoba, Argentina, Sept. 2.
Ellis joins Van Gundy, who was an NBA coach for 11 seasons, in mentoring a group expected to mainly consist of players in the NBA G League, the association's development/minor league formerly called the NBA D League.
"Since the 1992 Dream Team, it has been my lifelong dream to be a part of USA Basketball and, now, that dream has come true," Ellis added in the release. "I'm extremely fortunate to have an opportunity to learn from coach Van Gundy and coach Mo.
"I had a chance to experience coach Van Gundy's coaching early in my playing career and I always admired his knowledge, honesty and attention to detail."
In the AmeriCup preliminary round, each team plays a round-robin format versus the other three nations in their group. Final-round host Argentina and the top finishing teams from Group A, Group B and Group C advance to the semifinals.
USA is in Group C. The other eight teams in the tournament include Colombia, Brazil, Mexico, Puerto Rico, Argentina, Canada, U.S. Virgin Islands and Venezuela.
Ellis has some familiarity with the international game. During his pro playing days, Ellis gained experience by suiting up for teams in Germany, Turkey, Italy and Spain.
This past 2016-17 season with the NAZ Suns, who played their inaugural campaign in Prescott Valley after relocating from Bakersfield, California, Ellis led the team to a 22-28 overall record.
"Beyond deserved," NAZ Suns forward Derek Cooke Jr. said of Ellis' selection to the USA Basketball staff on Twitter Wednesday. "One of the best coaches I've ever had the opportunity to teach me about the game and about life."
The NAZ Suns' media relations department provided most of the information for this story.
Follow Doug Cook on Twitter @dougout_dc. Reach him at 928-445-3333 ext. 2039, or via email at dcook@prescottaz.com.