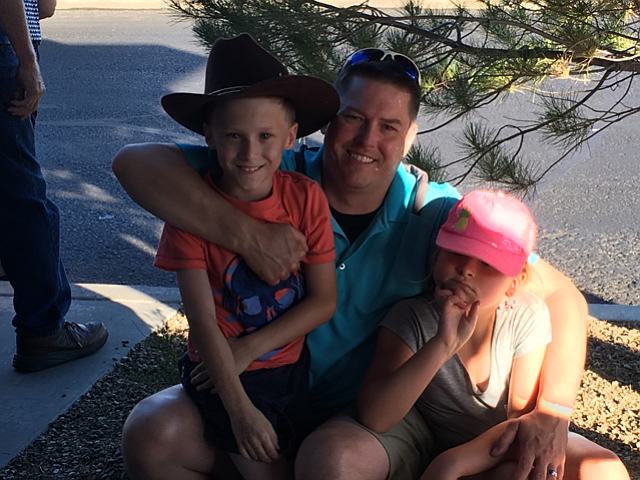 Originally Published: July 6, 2017 6:03 a.m.
If anything, Dillon Hastings is a survivor.
Born premature, Hastings, the 8-year-old grandson of Jim and Penny Hubble of Chino Valley, now has his sights set on being a rodeo cowboy.
After dabbling into Arizona history, Hastings of Bloomington, Minnesota, became intrigued with the annual Prescott Frontier Days "World's Oldest Rodeo." He attended the famed rodeo this past week, which ended Tuesday at the Rodeo Grounds, with his parents, Matt and Marina Hastings.
Dillon, born at 26 weeks, entered this world weighing 1 pound, 2 ounces. He stayed in a hospital for 99 days after his birth, although Penny Hubble says he should have remained there longer, considering his size.
Dillon has undergone a series of grueling treatments since being born or in the weeks afterward.
He's regularly received blood transfusions and steroids.
He's gotten eye exams to watch for retina attachment, ultrasounds for brain bleeds and monitoring for his heart.
And, before being discharged from the hospital, he was put on a ventilator for four weeks, given caffeine to keep his heart beating properly and Lasix to "get the fluid off of his tiny body," Penny Hubble said.
"They [doctors] handed us Dillon to go home and said, don't expect much," she added. "For 99 days he fought, and I knew that they would be wrong because this boy would prove all of them wrong. He is so strong."
Over the past seven-plus years, Dillon has indeed continued to prove most everyone wrong.
The hospital released Dillon from a neonatal intensive care unit (NICU) follow-up at age 3, although doctors didn't expect him to do so until he was at least 5 years old.
Penny said Dillon received nursing care twice a week for the first month after his release from the NICU. He subsequently obtained nursing care once a week and, finally, once a month for the first year. For his first 3 years, doctors administered him shots to prevent respiratory syncytial virus (RSV).
Dillon was enrolled in a special education program from his first month arriving home at age 3 until he turned 7, Penny said, so that he could keep up developmentally with his peers.
"An occupational therapist cried at our final meeting with the [special ed] team," Penny added. "She said she has never seen a baby with all he faced climb every obstacle and not look back. She said he isn't supposed to be doing all of this. He is a miracle."
As Dillon enters his eighth year, Penny said he wants to be "a cowboy, engineer, doctor – and we say, 'Go for it!' "
"He has no conditions from being born so early, and we are grateful for Dillon daily," Penny added. "He shows us how to be strong. We never know what tomorrow holds, so make the most of today. He is a hero."
—Courier Sports, courtesy of Penny Hubble