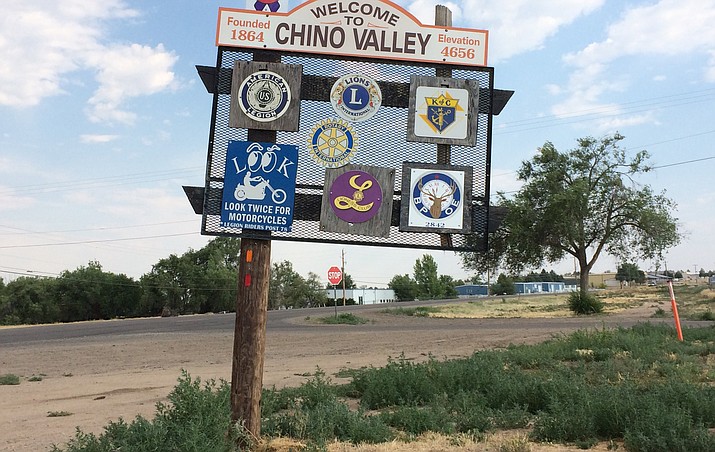 Originally Published: July 5, 2017 6:01 a.m.
The sign welcomes travelers to Chino Valley approaching town from the north. But for one driver, the sign halted his or her arrival in an abrupt manner.
Town Manager Cecilia Grittman said June 13 that her understanding is the driver's insurance company is working with the Chino Valley Lions Club to get the sign repaired. The sign is in the town's right of way.
Mike Best, past president of the Lions Club, said on June 30 the crash took place about nine months ago, and he's getting tired of the delay in getting it repaired.
Arizona Public Service has provided a pole, and Best has put out feelers to get a posthole drilled.
"I have a pole laying out there right now," Best said. "APS apologized – their posthole digger is booked until the end of the year. And with fires and all, posts get burned, I understand that."
He said he needs a 10-inch hole, which is bigger than most well drilling companies are able to dig.
So Best is going to take matters in his own hands. After the Fourth, when things settle down, if none of his feelers can produce a hole, he'll go to Chino Rentals, he said, adding that the Lions Club will pay for rental equipment to dig the posthole.
"We're tired of waiting for the insurance people. We kept on getting stonewalled. As outgoing Club president, I told the new president I would take care of it," he said with a laugh. The area has been blue staked and marked. "We're moving along."
Follow Sue Tone on Twitter @ToneNotes. Reach her at stone@prescottaz.com or 928-445-3333, ext. 2043.