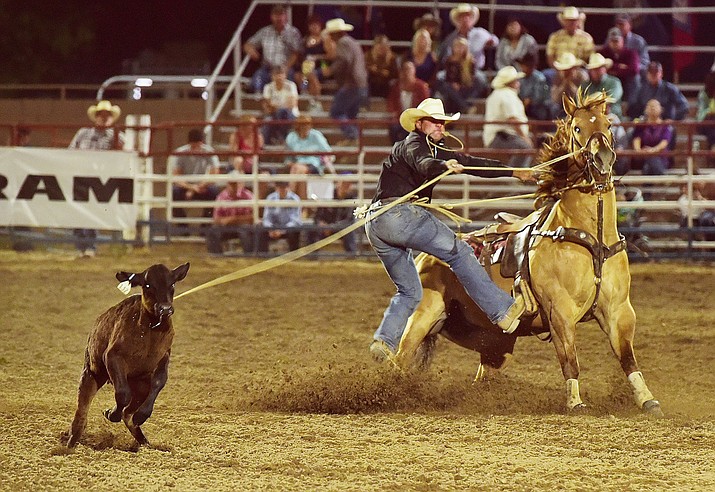 Photo by Les Stukenberg.

Originally Published: July 5, 2017 6:03 a.m.
Photo Gallery
Prescott Frontier Days Rodeo 070417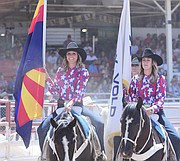 Steer wrestler and tie-down roper Trell Etbauer of Goodwell, Oklahoma, won the coveted All-Around buckle at the Prescott Frontier Days Rodeo for the first time in his 10-year pro career on Tuesday afternoon.
After the eighth and final performance of the 2017 "World's Oldest Rodeo" at the Prescott Rodeo Grounds, rodeo officials announced that Etbauer, 32, garnered the most money competing in at least two events.
In steer wrestling, Etbauer tied Kyle Irwin of Robertsdale, Alabama, for third place with a 9.9-second aggregate time on two head. During the first go-round in tie-down roping, he finished sixth with a 9.3-second time.
Etbauer's final payday was $2,838 in the hometown rodeo, which featured a total payout of $237,806 over eight performances, from June 28 through July 4.
Prescott Frontier Days represented Etbauer's third victory of an All-Around buckle this season, as he also claimed titles at the Clovis (California) Rodeo and the Two Hands Memorial Rodeo (Perkins, Oklahoma). He picked up a steer-wrestling buckle at the Abbyville (Kansas) Frontier Days Rodeo, too.
Etbauer is currently ranked seventh in the Professional Rodeo Cowboys Association's (PRCA) World Standings in the All-Around with more than $66,700 in earnings.
What follows is a synopsis for the rest of the champions in each of the main events at this summer's Prescott Frontier Days Rodeo.
STEER WRESTLING
Fifteen-year pro Josh Peek of Pueblo, Colorado, continued his torrid pace in 2017, winning his fourth steer-wrestling buckle of the season at Prescott Frontier Days.
Peek tallied a 9.0-second cumulative total on two head in the aggregate, earning $2,896 here.
This season, Peek has registered victories in steer wrestling at the Walker County Fair & Rodeo (Huntsville, Texas), Elizabeth (Colorado) Stampede Rodeo and the Evergreen (Colorado) Rodeo [co-championship].
Peek, who doubles as a tie-down roper, also has captured All-Around buckles at five rodeos, including the Ram National Circuit Finals (Kissimmee, Florida), San Angelo (Texas) Rodeo, Ute Mountain Roundup Rodeo (Cortez, Colorado), Royal Gorge Rodeo (Canon City, Colorado) and Evergreen.
Peek is a seven-time qualifier for the National Finals Rodeo, the Super Bowl of pro rodeos conducted at the end of every year in Las Vegas. He's presently ranked seventh in the PRCA's world standings for the All-Around (more than $48,300) and in steer wrestling (more than $41,800).
BAREBACK RIDING
Oui oui!
Evan Jayne of Marseille, France, won the bareback-riding buckle here with an 85.5-point ride on a horse named Smoke Jumper.
He edged current world standings leader and 2016 Prescott Frontier Days titlist Tim O'Connell of Zingle, Iowa, by five-tenths of a point (85). O'Connell rode Excalibur, a horse of the Harry Vold Company, Frontier Days' longtime stock contractor.
Jayne is currently rated ninth in the world in bareback riding with more than $49,200 in prize money.
TIE-DOWN ROPING
Caleb Smidt of Bellville, Texas, ranked No. 1 in the PRCA's All-Around world standings, won the tie-down roping crown here with an 18.1-second cumulative time on two head (aggregate).
With the victory, Smidt claimed $3,643, nipping both Riley Pruitt of Gering, Nebraska (second place, 18.4 seconds), and Marcos Costa of Childress, Texas (third, 18.7).
Smidt, who has won All-Around buckles at six different rodeos this season, surely will be content with snagging a bareback-riding buckle from Frontier Days, the first of his five-year pro career here.
SADDLE BRONC RIDING
Sterling Crawley of Stephenville, Texas, and Zeke Thurston of Big Valley, Alberta, Canada, tied for the saddle-bronc riding title at Prescott Frontier Days. And they did so by riding the same horse.
Earlier in rodeo week, Crawley – who won this event here in 2015 – notched an 86-point ride on Ropin' Dreams. On Tuesday, Thurston duplicated Crawley's effort with an 86-point ride on… Ropin' Dreams.
Crawley's older brother, Jacobs, won a co-championship here in saddle bronc riding in 2011. That year, Jacobs tied Taos Muncy of Corona, New Mexico, who, on Tuesday, had a 76.5-point ride on a horse named War Wagon.
Sterling, a three-time NFR qualifier, has now won three saddle-bronc riding buckles this season. Thurston, a two-year pro and a rising star who won a world championship in 2016, has victories in seven rodeos in 2017 thus far.
TEAM ROPING
In what turned out to be an extremely close competition, the team-roping duo of Chad Masters and Travis Graves won Prescott Frontier Days buckles with a 13.1-second aggregate time on two head.
The header Masters of Cedar Hill, Tennessee, and heeler Graves of Jay, Oklahoma, each nabbed $3,296 for their efforts.
Masters and Graves finished three-tenths of a second ahead of the Charly Crawford/Joseph Harrison and Joshua Torres/Jonathan Torres teams, which tied with identical 13.4-second aggregate times.
The next five teams to place finished anywhere from four-tenths to eight-tenths of a second behind Masters, presently ranked 14th in the world's header standings, and Graves, rated 11th in the world's heeler standings.
WOMEN'S BARREL RACING
Brittany Pozzi Tonozzi of Victoria, Texas, tied for second place in the first go-round and won the second go-round to capture the Prescott Frontier Days buckle in women's barrel racing.
Pozzi Tonozzi registered a 17.26-second time in the first go-round and a 17.33-second time in the second go-round for a 34.59-second total. She earned a check for $1,961.
She had to fend off challenges from Kimmie Wall of Roosevelt, Utah (tied for second place, 34.76 seconds) and Kim Schulze of Larkspur, Colorado (tied for second, 34.76) in order to ride away with the buckle.
BULL RIDING
Per usual at Prescott Frontier Days, numerous bull riders had difficulty trying to stay on some of the fiercest bulls in the pro game over the past seven days at the Rodeo Grounds.
In the end, Dustin Bowen of Waller, Texas, won the buckle with an 83.5-point ride on Sandi's Dream. Ironically, runner-up Tustin Daye of Lupton, Arizona, rode Sandi's Dream for 82.5 points.
Bowen, currently ranked 12th in the world standings, won a hefty $6,686 here, while Daye deposited a glorious sum of $5,126.
Follow Doug Cook on Twitter @dougout_dc. Reach him at 928-445-3333 ext. 2039, or via email at dcook@prescottaz.com.