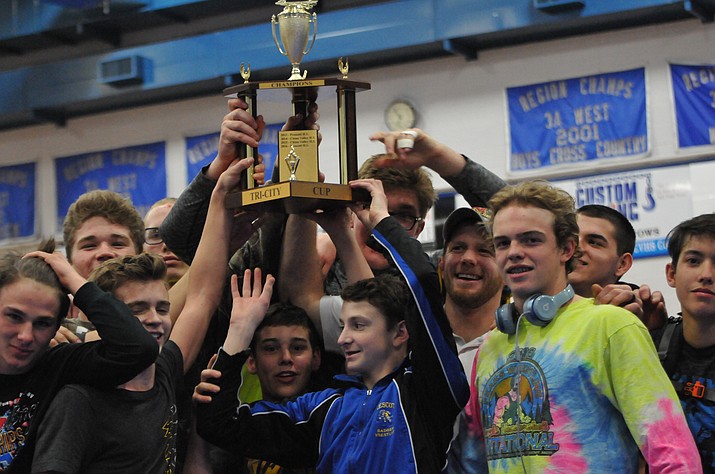 Originally Published: January 28, 2017 6:04 a.m.
CHINO VALLEY — Prescott High's wrestling team captured the Larry Legler Quad-City Cup championship for the second straight year on Friday night, Jan. 27, after coming from behind to defeat Chino Valley at the Cougars' main gym.
The Arizona Interscholastic Association (AIA) Division III Badgers have now won the Cup three times dating back to the competition's inaugural year in 2013. Chino Valley was the first to claim back-to-back Cup victories in 2014-15.
On Friday, the Cougars were the runners-up with a 2-1 dual record, followed by Bradshaw Mountain (1-2) in third and Mayer (0-3) in fourth.
Prescott narrowly defeated Chino, 39-33, in the final dual of the evening. Trailing 33-30 with two bouts left, the Badgers' Colton Tomitz at 113 pounds and Darian Bowyer at 120 pounds posted consecutive wins to pull it out for PHS. In their other duals, the Badgers defeated rival Bradshaw, 60-27, and Mayer, 66-15.
The match of the evening came at 195 pounds. It pitted Division II No. 1-ranked Bradshaw's Olijah Sally against D-III No. 2 Prescott's Jon Dwyer.
Dwyer narrowly suffered his first loss of the season by decision to Sally, who rallied late for the victory. After Friday, Sally owns a 48-4 record. Dwyer, who missed the first half of the season due to a left knee injury, stands at 28-1.
"You've just gotta dig deep and get it out [of] your gut [to win] –," Sally said after beating Dwyer. "That's what all good wrestlers have [the ability to do]."
The referee whistled Sally three times for stalling during the match, calls with which Sally and his coach, Brad Grauberger, did not agree.
"I was kind of irritated with some of the stalling calls," Sally said. "Because when I did shoot, during the whole match, [Dwyer] just kept backing up, backing up, backing up. I was actually defending against the duck-under [move] and the ref thought I was backing up. I was attacking him."
Sally, a transfer from Chicago, is actually a few pounds lighter than Dwyer. He weighs 182 and Dwyer weighs 185. The difference in the match came on a late hip throw, where Sally grabbed Dwyer's head and arm after being reversed.
"I hung onto his back and got the back points," Sally said. "He was strong enough to roll me over, but I was still able to get back to my base and get back to my reversal on him and get the 2 [points]."
Dwyer said he knew he could take down Sally, but he tried to ride him to see if he could "keep his points normal."
"He took advantage of that, and he put me to my back from being on bottom," Dwyer added. "I know never to underestimate my opponents, 'cause I did go into the match thinking he wasn't as good as he was. And he's an amazing wrestler."
Prescott's Legler Cup win came on the heels of a sixth-place finish Saturday, Jan. 21, at the Diego Gadea Tournament in Chandler. The Badgers were buoyed by Dwyer winning the 197-pound weight class.
Heavyweight Gavin Nelson (second place), 122-pounder Bowyer (third), and 115-pounder Tomitz (fifth) also stood out for the Badgers.
"The guys wrestled really well, and we almost had a couple more placers," first-year Prescott coach Max Payne said of his team's Gadea finish. "It was fun to come down south and see some different competition. I'm proud of all the guys we're getting ready to continue on to sectionals and state."
Prescott and Chino Valley will compete in the AIA's Division III, Section IV Tournament Friday and Saturday, Feb. 3 and 4, at Payson High School.
On the same dates, Bradshaw Mountain will head to the D-II, Section II meet at Ironwood High in Glendale, while Mayer heads to the D-IV, Section I tourney at Winslow High.
Follow Doug Cook on Twitter @dougout_dc. Reach him at 928-445-3333 ext. 2039, or 928-642-7865.