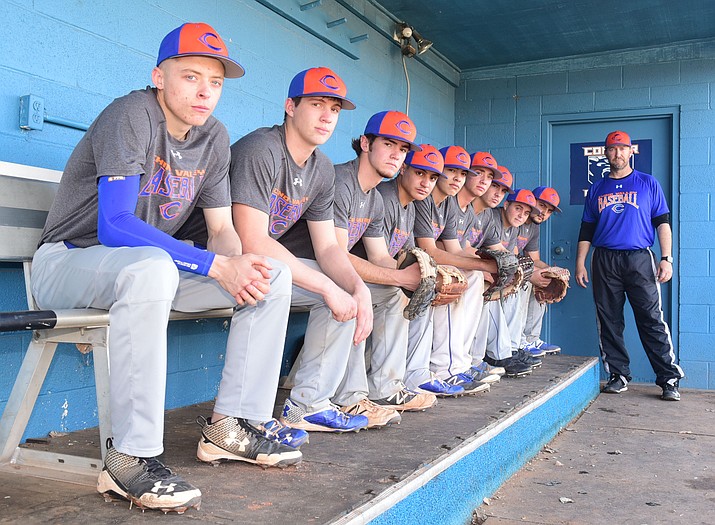 Originally Published: February 28, 2017 6:02 a.m.
Hanging above the back entrance to the Chino Valley baseball team's dugout, a white metal sign in bold black letters reads, "If Your [sic] Not Prepared To Put The Team First… TURN AROUND."
Second-year Cougars coach Mark Middleton bolted the placard to the dugout's concrete block wall for all of his players to see during a worrisome six-game losing streak last March.
Chino would move on to win six of its last 10 games, ultimately losing in the first round of the state playoffs in the former Division III. Heading into the 2017 season next week, Middleton's message rings true.
"We just weren't playing well," Middleton said in reflection of last year's losing streak from practice on Thursday, Feb. 23. "I've always considered baseball one of the most individualistic team sports, so it's easy to fall into a pattern of being selfish. It just seemed like we weren't playing for each other as a team.
"And the sign, it's up-front, it's blatant. If you're not here for that, then you don't need to be playing this sport."
Fast forward to 2017. Middleton says his boys are competing for each other and understanding their roles.
"We have the best attitudes," he added.
Weather permitting, the 3A Cougars open the 2017 season at 3:30 p.m. next Tuesday, Feb. 28, when they host Sedona Red Rock at Nesbitt-Pratt Field. And they'll be led by eight seniors on a 14-player roster that's taken Middleton's words to heart.
Senior right-handed ace pitcher/middle infielder Skylar Brooks, a four-year varsity letter winner, serves as Chino's vocal leader. The hurler with a sturdy fastball/curveball combination will bat second.
"We have a lot of leadership this year and we're all pretty motivated, and we all want to go really far," said Brooks, adding that he loves Middleton's sign. "This year we have a lot of kids that want to go all the way."
Cerebral senior catcher/third baseman Johnny Gilbert leads off. Batting third is junior shortstop/pitcher Tyler Hixon, a third-year letterman who can throw a variety of pitches. Middleton said Hixon's "fastball flies." Like Brooks, Hixon's thrilled about 2017.
"We have been playing together for a long time, Hixon said. "And as long as we play together, there's not a team that can stop us."
Middleton hasn't committed to a clean-up hitter, although he has a few options. Holes 6-9 aren't solidified either, although junior leftfielder Kaleb Chacon should bat eighth or ninth.
Senior first baseman Brian Sutton, sophomore centerfielder/left-handed pitcher Michael Paulus, senior third baseman Hector Casas, senior outfielder/pitcher Jayden Lofton and senior second baseman Andrew Granillo are in the starting mix.
Sutton, a sure-gloved defender known for his clutch hitting, said he's more confident than he was at this time last spring.
"We have good team chemistry," he added. "Last year we were in the past. But we've learned from our mistakes, and we're all going to be working together and helping each other. It's going to be a better season for us."
Now a member of the reconstituted 3A West Region, the Cougars like their chances for returning to the postseason this spring. They will re-familiarize themselves with traditional foes, such as River Valley and Wickenburg, which have more similar enrollments than D-III did.
Chino Valley baseball fans will also see a notable change to the home ball park this season.
Due to a combination of inclement wet weather and high winds in spurts over the off-season, the Cougars' longtime 80- by 20-foot blue centerfield wood wall fell in two separate pieces. One section blew down over the summer. Months later, a winter storm snapped and knocked over the old advertising wall.
That felled blue wall has been replaced by green chain-link fencing with a yellow fence topper spanning the outfield. A new green batter's eye should be erected soon.
As the park takes a new shape, the team on the field should, too.
Gifted with speed and power, and deep in pitching, the Cougars are primed for a fresh start.
Follow Doug Cook on Twitter @dougout_dc. Reach him at 928-445-3333 ext. 2039.