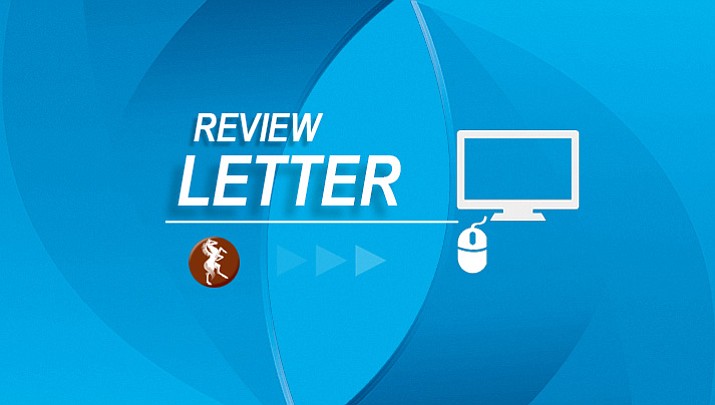 Originally Published: February 15, 2017 4:42 a.m.
Editor:
Thank you for a great 2016!
On behalf of our Board of Directors, the Prescott Western Heritage Foundation, Inc., would like to thank all of our friends for their generous support throughout 2016.
First of all, our future Western Heritage Center was given a big boost this year by the very generous donations from the following businesses and individuals: Spring Hill Suites & Residence Inn by Marriott (Margo & Brad Christensen), Bradford J. Williams, Sandi & Craig Brown, and the White Foundation.
Closing out the year, we held our 4th Annual Western Heritage Banquet at the Historic Hotel St. Michael in November. Glory Glidden of Prescott, and Laramie Mahan of Camp Verde, were both awarded our 2016 Western "Heritage Keeper" Scholarships for their passion, dedication, and talent to help preserve our western heritage. A special thank you to our scholarship sponsors, One AZ C.U. and The Harold James Family Trust.
In addition, the 2016 Western "Heritage Keeper" recognition award for an organization went to Sharlot Hall Museum and the individual award went to Bruce Fee, a local historian and artist.
Thank you to the following sponsors for their generous support of our Banquet, especially our Gold Nugget Presenting Sponsor: One AZ C.U. Other generous sponsors included: Arizona Cowboy Poet's Gathering, Augie's Restaurant, Black Arrow Gallery, Broken Horn D Ranch, Barrett Propane, Ted Wickstrom, El Gato Azul, Jody Miller Photography, Julie & Dennis Jennings, Jack Ray, KDDL 94.3 Cattle Country, National Bank of Arizona, Spring Hill Suites, Prescott Daily Courier, and Realty Executives - N. AZ. We would also like to thank Sanford Cohen, our MC for the evening, our banquet guests, and our Banquet Committee.
Our silent auction contributors and other donors included: Raskin's Jewelers, Diane & Bob Greninger, Tom Agostino, Mary Williams, Suzanne & Jim Robb, Prescott Frontier Days Rodeo®, Old Capitol Market, Spice Traveler, Olive U, Hotel St. Michael, Karen Clarkson, Julie & Dennis Jennings, Barb & Jim Buchanan, MaryAnn & Dennis Gallagher, Melissa & Elisabeth Ruffner, Ann & Steve Atkinson, Black Arrow Gallery, Antelope Hills Golf, Rancher's Wife, TimberWoof Pet Boutique, Newman's Gallery, Lawyer's Title, Sami Lightfoot, El Gato Azul, Hassayampa Inn, Elks Theater, Prescott Station, Iron Springs Café, Zeke Browning, Hair Station 105, Lone Spur Café, Ian Russell Gallery, Spa Petite, Donna & Ron Baade, Lynne & Bob Hellmers, Wendy Haley, Posey Nash, Mona McCroskey, The Frame & I, Allegra Printing, and Staples.
We believe that our sold out event is due to a raised awareness regarding the importance of preserving and promoting our western heritage through education, events, art, music, and projects that enhance our western lifestyle, making Prescott and Yavapai County a unique place to live and visit.
Dennis Gallagher
Founder/President
Prescott Western Heritage