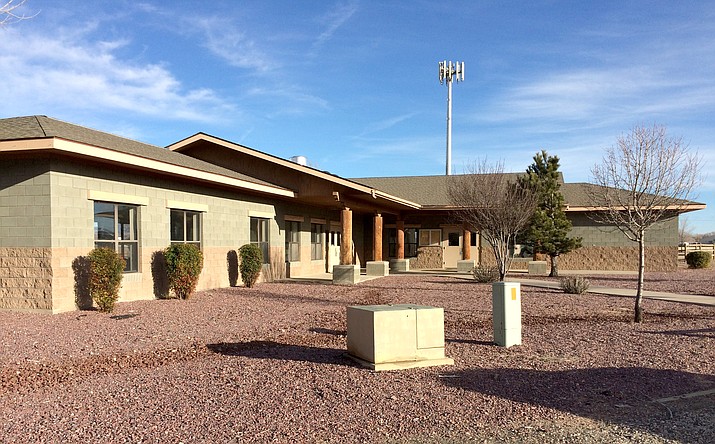 Photo by Sue Tone.
Originally Published: February 15, 2017 5:11 a.m.
From the outside, the Chino Valley Community Center looks more than adequate, but dust and spider webs are collecting on the windows and the empty parking lot has the look of abandonment.
Chino Valley council members discussed what can go into that space, and what kinds of rehabilitation or upgrades are needed at their board retreat and study session on Jan. 31.
The Boys & Girls Club has expressed interest in using the entire building, said Town Clerk Jami Lewis.
Executive Director Gerald Szostak of the Boys & Girls Clubs of Central Arizona said he has been working with Chino Valley Public Works Director Chris Bartels on the possibility of using the Community Center for a teen program for kids ages 11 or 12 to 17 or 18.
"We're still talking about what would be best for the community," Szostak said.
The Club wants to set up an afterschool and summer programs. Hours would be based on the needs of the children and the community, he said, but most likely would include the time after school until about 6 or 7 p.m., and all day on Fridays when the district has no school.
"They would have something to do for the majority of the day," he said.
The building has three zones: one can be used for office space, another for meetings, and a third for clubs and family gatherings, Lewis said. The building also has a kitchen.
If the Club uses the space, it would have a games room with ping-pong, foosball, maybe a pool table, and a lounge area to relax, Szostak said.
"Then you also have a library set-up for kids, a quiet place with computers and a place to do homework," he added. "One of the biggest things is we keep them busy. We have prevention programs, sports leagues, we'd like to utilize the park next door – it's a great area. We get the kids engaged."
The Club is not about just "hanging around and playing video games all day." Szostak said working together on community service projects is a part of the program.

He would like to see the Club in the building by August in time for the start of the school year, but recognizes there is no timeline in place. The building also needs some repairs and rehab work.
Council members requested staff to prepare a plan with costs for upgrades, timelines, and how the space could be divided into an area for the Boys and Girls Club to use and maybe room for other groups to rent.
Follow Sue Tone on Twitter @ToneNotes. Reach her at 928-445-3333 ext. 2043.