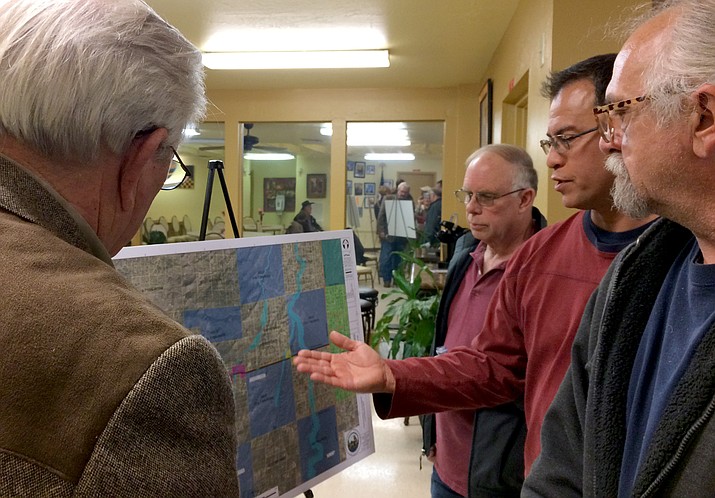 Photo by Sue Tone.
Originally Published: February 15, 2017 5:18 a.m.
While still 10 to 15 years away, the proposed northern connector road that will link Chino Valley to Williamson Valley Road brought frustration, dread and, for some, satisfaction to more than 80 residents who showed up Feb. 7 to hear from Yavapai County and Lyons Engineering and Surveying representatives.
The county Public Works Department worked with design engineers to study the best route to build a connector road based on growth and the need for emergency services access. They analyzed five routes.
The preferred alignment corridor starts at Center Street and Reed Road in Chino Valley at the border of the town and county, and ends at the intersection of Nancy and Williamson Valley roads.
"It starts and ends at existing intersections. It's the shortest and comes in at the lowest cost. And it affects the fewest occupied properties," said Public Works Director Byron Jaspers. "It also has the most existing rights-of-way."
Not too happy about the Reed and Center intersection is Morgan Swift, who lives on the county side of the four-way stop. She, her husband and two boys live in the home they bought three years ago.
"We wouldn't have looked at the property if we had known this," Swift said. "I was assured by different officials that nothing would happen."
She homeschools her boys and said the intersection gets busy twice a day. They are aware of the traffic outside for about an hour first thing in the morning and again in the afternoon. An increase in vehicles traveling the roadway worries her.
When a new bank of mailboxes recently appeared set in cement at the corner, Swift said she asked about future plans and was told the expense of the boxes meant there was no chance of anything major happening soon.
Her frustration is understandable. That's why the county sets up public meetings like these so far in the future of actual construction. It is part of the process, said County Administrator Phil Bourdon. "We want to engage people early on."
It is still too early to know what will happen at any of the intersections along the corridor route, Jaspers said in response to a question about the Swift property. It even could be that Chino Valley will have expanded its town limits and annexed along Center Street.
"It has increased in size and the economy is coming back. Population and traffic numbers will drive the time frame," Jaspers said. "We're just working to acquire the rights-of-way and preserve the corridor so that when the needs are there, we will be ready," he said.
Another resident expressed resignation, alluding to the government doing what it will no matter what the people want. "I guess you can't fight growth," said Dave Lacey, a Chino Valley resident for the past seven years.
Lacey's wife, Iris, said increased traffic noise could bother her. Their property line is two acres from the connector corridor.
Louise and Patrick Burcham live a half mile north of the proposed corridor. They are looking forward to having a paved road and a faster trip home. They said a friend living directly on Center Street is also in favor of the plans.
The existing road that runs somewhat along the proposed alignment turns to dirt just past Yuma about a mile north of Reed Road, Jaspers said. It is drivable, but rough and dusty in dry weather and full of mud holes in wet weather.
Jaspers said plans for a connector road first came up in 2006, and was placed in the Regional Transportation Plan created by Central Yavapai Metropolitan Planning Organization (CYMPO). To acquire the rights-of-way will take three to five years. After that comes the National Environmental Policy Act (NEPA) and archeological studies which also can take years.
Follow Sue Tone on Twitter @ToneNotes. Reach her at 928-445-3333 ext. 2043.