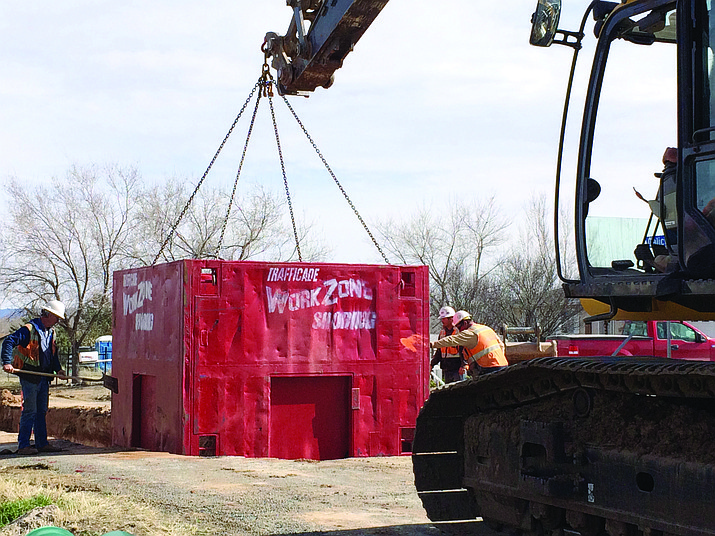 Photo by Sue Tone.
Originally Published: February 15, 2017 5:15 a.m.
Engineers overestimated how much the Sewer Main Extension Project would cost, and bids came in less than expected, giving the Chino Valley Public Works Department some extra money for the project.
Michael Lopez, director of Public Works, reported at the Feb. 24 council meeting that when engineering estimates for the Center Street Sewer Project fell short of the initial loan, the state Water Infrastructure Finance Authority (WIFA) approved additional funding, along with a large amount of forgivable principle.
The town received bids on the project that were below the engineer's estimate, which resulted in an additional $32,890. Staff then looked for ways to expand the project.
The original project was designed to prepare for future extension to multi-family parcels south on Road 1 West. Two of those property owners supported the project, and staff drafted a change order to authorize Lyon to design the new extension.
The extra money will add 2,500 lineal feet of 12-inch sewer main improvements down south Road 1 West to serve two multifamily residential properties consisting of about 100 accounts.
The council unanimously approved the change order to the agreement with Lyon Engineering Inc. in the amount of $32,890.
In other action, the council also approved a change order with Earth Resources Corporation, rather than go out for a separate bid, in the amount of $298,506 relating to the Center Street Sewer Main Extension project, to utilize all the funds available from WIFA.
Earth Resources has agreed to use the current pricing for the change order. Lopez reported that staff was comfortable with Earth Resources and hoped the initial project would be complete by early March. Due to weather-related issues, staff allowed for some extra days in the change order.
Follow Sue Tone on Twitter @ToneNotes. Reach her at 928-445-3333 ext. 2043.