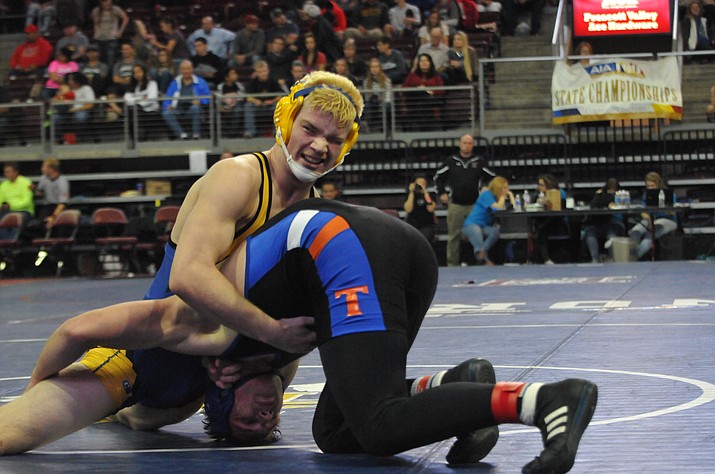 Originally Published: February 11, 2017 6:02 a.m.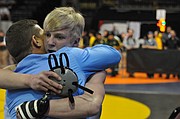 Prescott 195-pound senior Jon Dwyer and Chino Valley 138-pound freshman Keller Rock won individual state titles in the finals of the D-III Wrestling State Championships on Friday night at Prescott Valley Event Center.
For Dwyer, a senior, and Rock, a freshman, it was their first time claiming a first-place state medal, and both of them registered upsets.
The No. 2-seeded Dwyer, a D-III, Section IV, champion who lost the third-place match in D-II last season, edged top-seeded Thunderbird's Eric Mickelson (40-4 overall record) in a tight bout, 8-6. He may not have been as strong as Mickelson, but Dwyer was quicker on the mat.
"It sounds right, ya know? It just kinda flows off the tongue pretty well," Dwyer said of winning a state crown. "Finishing fourth last year pushed me a lot. I hate losing. I don't know of someone who doesn't hate losing.
"Coming into this tournament, being in a familiar place, remembering that loss, motivated me to push harder and harder. And that's what helped me win that match against Eric."
Rock, also a No. 2 seed and a D-III, Section IV, champion, knocked off previously unbeaten top-seeded Dysart senior Jacob Rios (56-1), pinning him in 3 minutes and 10 seconds. The match was a scoreless tie until Rock got the upper hand.
"I feel good about it, and now it's time to go work for freestyle and Greco, and go train for nationals [over the summer], and hopefully we'll be back here again next year," Rock said. "I worked hard for my goals, and my goals came true."
Rios was in tears afterward, stunned by what had happened. He said Rock had a slight edge on him.
"I believe he's just a little bit stronger than me," Rios said. "It's just that little bit of strength that I couldn't overcome."
Dwyer went a perfect 4-0 in his bracket, winning by pin in the first round, followed by three straight decisions, including 9-3 in the quarterfinals and 10-3 in the semifinals. Dwyer played only half of the season, in part due to injury. He finished with a 29-2 record and plans to wrestle in college.
"In a way, yeah [I was fresher with fewer matches this season]," Dwyer said. "I wasn't as exhausted by the end of the season. At the same time, it didn't help as much. I came in halfway through the season in a big tournament. It was a lot to get used to, but with the help of my coach, Max Payne, and all my teammates, I adapted well and came back to win state." Payne, a first-year coach and a former two-time state champion at Prescott, thought Dwyer "performed perfect."
"We came in with a game plan, he stuck to it, kept his cool, and took it to him," Payne said of Dwyer's state-title win. "He kept the pace up, and was fast and strong, and did everything he needed to do."
For Rock, he's only just begun what figures to be a stellar prep career. He's the first freshman in Chino Valley wrestling history to capture a state title, and the program's fifth grappler to do so all-time. Three Cougars won state championships in 2016 alone. Rock ended his freshman campaign with a 46-4 record. In the final against Rios, Rock knew what to look for because he watched film.
"I focused on his shot and defending his shot," Rock said. "I knew if I defended his shot, I would win the match."
Chino coach Allen Foster said "we've known Rios forever and there's stuff that we did as coaches, but most of what was done came during the offseason [by Rock]."
"Keller Rock – he works tirelessly in the offseason and he's being rewarded for it," Foster added. "The kid doesn't stay off the mat. He wrestles all through the summer and he's an example to everybody around him."
In the state tournament, Rock went 4-0 with three pins. He won his first two matches by pin, and in convincing fashion – 24 seconds in round one and 1:24 in the quarterfinals. He won by decision, 4-0, in the semifinals.