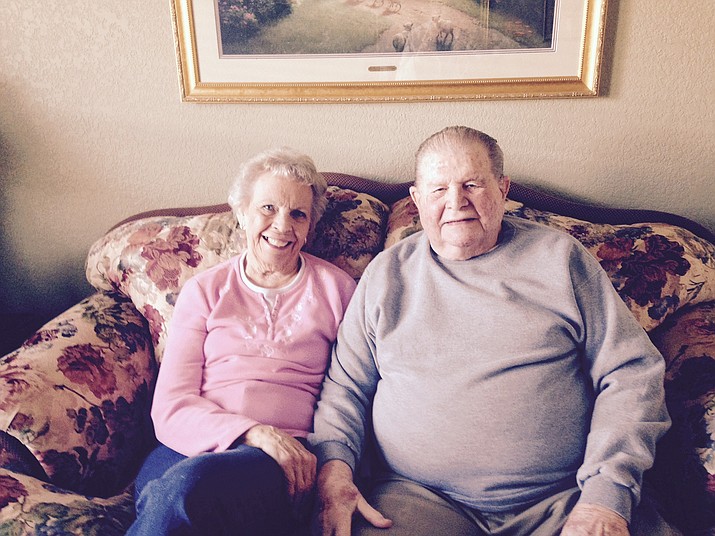 Photo by Diane DeHamer.

Originally Published: February 8, 2017 4:39 a.m.
Denny met Janet in 1950 when they were both in high school. After a courtship, there was a marriage. The Parsons of Chino Valley have been married for 63 years, raising three sons. They now have seven grandchildren and 14 great grandchildren.
A Martin Luther quote comes to mind: "There is no more lovely, friendly and charming relationship, communion, or company than a good marriage."
So how did this Valentine's Day story start?
"Denny was dating my best friend Jane and I met him while visiting her, but after they had a fight and broke up, we started dating," Janet Parsons said.
The Parsons said they were attracted to each other and just seemed to hit it off.
"I fell in love with her looks, because she was very pretty, and her nice personality," he said.
"I was attracted to Denny's great personality and I felt he was very trustworthy," she said.
Denny Parsons went into the Navy, and came home from the Philippines in August of 1953 and they were married in December.
"We both attended Viola University. I was studying to be a pastor and we both worked as youth leaders with junior high kids," he said.
The Parsons eventually had three sons, Steven, David, and Mark.
"We had our first son when I was in college, our second son while in seminary and our third when we started our first church," he said.
Denny Parsons pastored at several different churches over a 20-year period.
"During that time Janet was very open to wherever the Lord was leading us and never complained with all the moving we had to do. We both feel the Lord kept our marriage strong because we both had the same goals," he said.
"I think we had a successful marriage because of our Christian faith, but you also really need to communicate with each other," Janet added.
After 20 years Denny was rather burned out and got out of pastoring to start his own pet shop called "Noah's Ark," which they owned for 12 years. But then he admits the Lord started tugging at his heart to get back into the ministry.
"We moved to Prescott Valley and started pastoring at Bethel Baptist Church. But when Denny's health started failing, he had to resign from the church," Janet Parsons said.
They moved to Chino Valley in 2010 and started attending Grace Baptist Church, which they still do today.
Both Janet and Denny offered this advice for newly married couples.
"Be compatible with each other, because you will have your ups and downs, so learn to compromise, and if the Lord is the head of your family your marriage will succeed," they said.