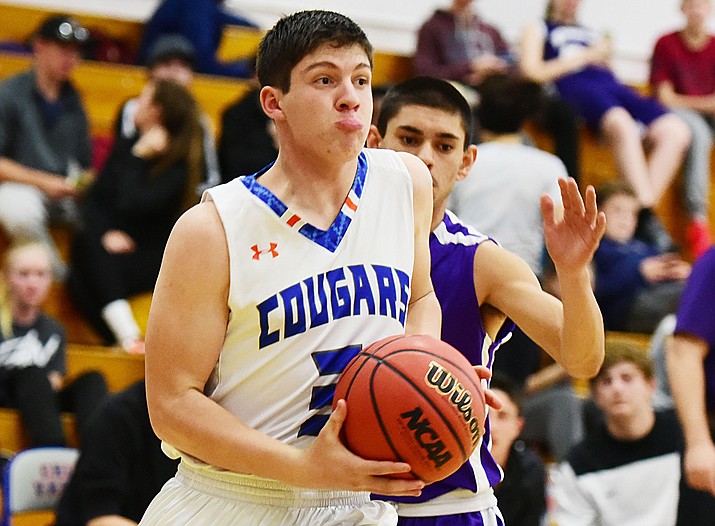 Originally Published: February 4, 2017 6:02 a.m.
Photo Gallery
CVHS vs Wickenburg Boys Basketball 020317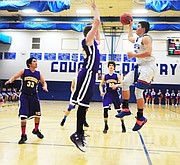 CHINO VALLEY — After notching a 67-62 upset victory over Wickenburg on Friday night, Feb. 3, the Chino Valley boys' basketball team inched closer to solidifying its first 3A state tournament berth in eight years.
The top three squads in each of the six regions in 3A qualify for the 24-team playoffs that start Feb. 15. In this West region clash at the Cougars' main gym, third-place Chino defeated the second-place Wranglers, who ended the regular-season at 7-3 in league play.
"It was probably the biggest win in Chino basketball in seven years," Cougars coach Mike Fogel said.
Chino Valley (15-12 overall, 8-8 in power-point games, 4-4 in region) has two region games left on its schedule against the West's two poorest teams, Odyssey Institute (1-7) and River Valley (2-7). The Cougars split their season series against fourth-place Kingman (3-6), which lost to River Valley on Friday and ends its campaign at Odyssey Institute next Wednesday, Feb. 8.
"I thought we had to win two out of the next three [games] to get into the state playoffs, which we haven't been in since 2009," Fogel added. "So this is a bonus. But we also thought we could get them [Wranglers]."
Versus 3A No. 20-ranked Wickenburg, No. 30 Chino had four players score in double figures. Gavin Cluff paced the hosts, registering a double-double of 22 points and 13 rebounds.
Brian Sutton also tallied a double-double with 10 points, 10 assists and eight rebounds. Skylar Brooks (16 points, four assists) and Blake Ely (10 points, four boards, three assists) followed. Jaydon Loftin chipped in with seven points and nine rebounds.
"We needed this win, and we came out with the right mentality to play in the team concept," Cluff said. "We just kept moving the ball to get it to the open man."
The Wranglers also had four players score in double digits. Senior Nick Beach led the way with 18 points, five rebounds and three assists. Jonah Vega-Reid (17 points, eight rebounds, five assists); Austin Sarber (10 points, four boards); and Kyle Macias (11 points, three boards, two assists) followed for the visitors.
Wickenburg coach Kyle Wortley said his team has suffered through injuries of late. The Wranglers went without starting junior guard Gage Hilleshiem on Friday. Rony Ruiz, another starting guard, is still recovering from tearing two knee ligaments during football season. Sarber and Macias have nagging ailments, too. In Chino's first meeting against Wickenburg Jan. 17 on the road, the Wranglers won in a rout, 71-41.
"I told them, 'We look like we're in a geriatric ward,' in the locker room," Wortley said. "We're going to be taking a lot of ice baths next week."
Tied 24-24 at halftime, the Cougars clamped down defensively and on the glass, outscoring Wickenburg, 24-11, in the third period for a 48-35 advantage going into the fourth. The Wranglers made things interesting in the final period, though, going on a 10-2 run from 3:14 to the final 40 seconds to cut it to 62-57. But Chino converted 7-of-10 free throws in the final frame to seal the victory.
"Clock management was the biggest thing for us – we just had to pull it out and make them foul us so we can go to the line and score when the clock was stopped," Brooks said. "Everybody just fought. We just kept moving the ball, looking for the open man. We just got good shots, and kept us in the game."
Next up, the Cougars will play host to Odyssey Institute on Senior Night at 7 p.m. Tuesday, Feb. 7, at Chino's main gym. They end the regular season at 7 p.m. Thursday, Feb. 7, at River Valley.
Follow Doug Cook on Twitter @dougout_dc. Reach him at 928-445-3333 ext. 2039