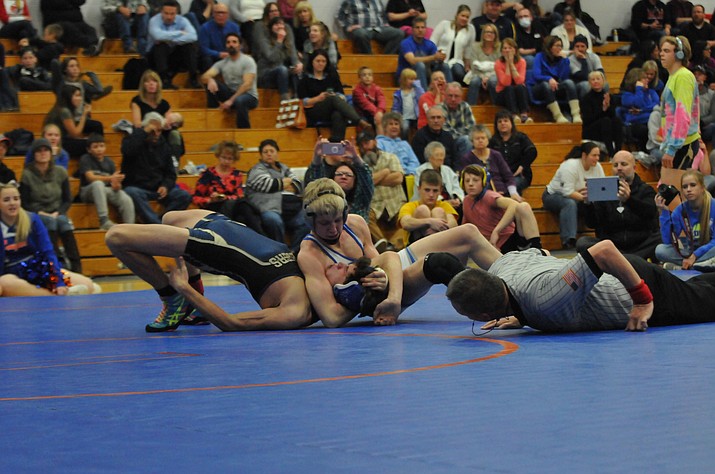 Photo by Doug Cook.

Originally Published: February 1, 2017 3:38 a.m.
Despite winning seven of 14 matches, Chino Valley High's wrestling team fell just short of defeating Prescott High, which repeated as Legler Quad-City Cup champions this past Friday night, Jan. 27.
In front of a lively crowd on Senior Night at the Cougars' main gym, the Badgers came from behind to edge Chino, 39-33. The Cup runner-up Cougars allowed more pins than Prescott, providing the margin of victory for the visitors.
Chino Valley coach Allen Foster said he was "extremely pleased" with his youthful squad's performance in the final meet of the 2016-17 regular season. To begin the campaign, Prescott had beaten the Cougars by a much wider margin, 53-24.
"It shows the progress that we have made as a team, and it gives us a lot of confidence going into sectionals and state," added Foster, whose Cougars claimed the Cup in 2014 and 2015.
Earlier in the Quad-City Cup meet, Arizona Interscholastic Association (AIA) Division III Chino topped D-II Bradshaw Mountain (third place), 47-35, and D-IV Mayer (fourth place), 60-24.
Chino led the Badgers by a narrow margin for most of their dual, but Prescott would chip away in the upper weight classes. It took back-to-back wins in the final two bouts, at 113 pounds and 120 pounds, for PHS to seal the team title.
Standouts for the Cougars at the meet included the team's lone senior, 126-pounder Austin Ehlert; 138-pound freshman Keller Rock; and 145-pounder Kyle Lund. Each of them compiled a 3-0 record in the tournament.
Five wrestlers will lead Chino Valley into the D-III, Section IV championships this Saturday, Feb. 4, at Payson High School in Payson. They include Rock (39-4 overall record), who is ranked No. 2 in D-III at 138 pounds; Ehlert (33-11); and sophomores Wade Payne (24-16 at 113 pounds), Lund (23-10) and J.C. Mortensen (22-8 at 132 pounds).
Section champions garner automatic berths into the state tournament.
Next week, Prescott Valley Event Center will play host to the AIA's state wrestling championships in divisions I, II, III and IV. The state tournaments for divisions III and IV are scheduled for all day Thursday, Feb. 9, and Friday, Feb. 10. State meets for divisions I and II are slated for all day Friday, Feb. 10, and Saturday, Feb. 11.
Admission into the state tournaments costs $15 per adult, $13 per senior or military member, and $5 per student. These are all-day passes. Children ages 5 and younger get in free.
Follow Doug Cook on Twitter @dougout_dc. Reach him at 928-445-3333, ext. 2039