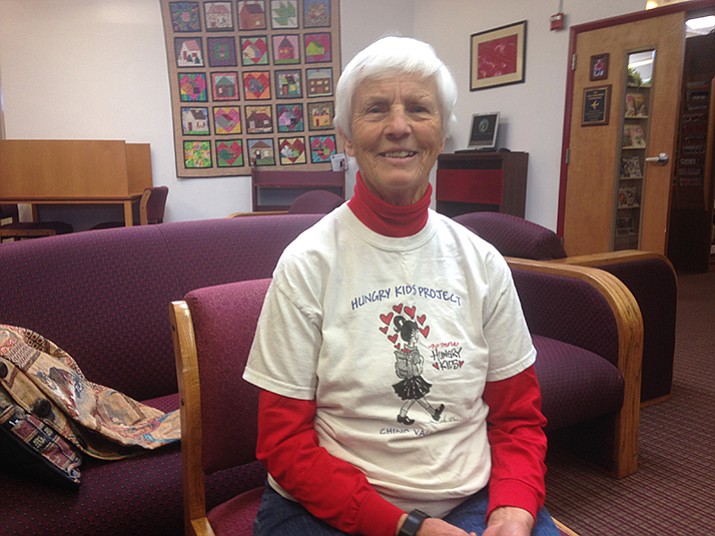 Originally Published: December 6, 2017 5:55 a.m.
There are thousands of children in our country who go hungry each day, even in our small town of Chino Valley.
When some see a problem that big they don't know what to do to help. But others view it as a challenge and are eager to jump in to help.
Six years ago the Hungry Kids Program was started by Chino Valley Family Church with a goal of making sure these children had something to eat.
"When this program first started, we had 40 children from all of our schools in the Chino Valley Unified School District, we now have 238 children we send food home with every Thursday," said program coordinator Olive Anderson.
"The school nurses alert us to the children who need this help. Every Thursday we have between 15 to 20 volunteers that come to the church and help us fill the bags with food items such as peanut butter crackers, fruit and pudding cups, cheese sticks, tuna and chicken with crackers, microwaveable pasta cups, fresh fruit (as available) etc. Basically things the children can eat without having to cook it, and can prepare themselves, if they happen to be living somewhere with no electricity. At this time we spend $1,550 a week to supply the children with food," Anderson said.
A lot of the food for this program comes from donations from residents of the community, as well as businesses, Community Service groups such as Lions, and Elks, and churches in the area.
"At this time of year as the weather turns cold we are also asking for donations of winter hats, headbands, gloves and socks. We are also looking for Christmas stockings that we can fill with food and treats for each child. These will be sent home with the kids on the week of the 18th," Anderson said.
"I love doing this work because we are meeting a need for these children and letting them know someone cares about them" she said.
Anyone who would like to donate can call Olive Anderson at 928-899-2023, or items can be dropped off at Chino Valley Family Church, 718 S. Highway 89, Monday through Thursday from 9a.m. to 2 p.m.