Originally Published: December 6, 2017 6:02 a.m.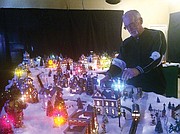 Chino Valley resident Art Cederholm has an entire village in his garage. It's something he's been doing since 2005, Cederholm said he started with two tables and now, there's 10 tables in his garage that showcase a Christmas village.
One section even looks like Bedford Falls from "It's a Wonderful Life," he said.
Though there wasn't a lot of information online about how the movie set was laid out, they figured it out by looking at Seneca Falls, New York on Google Earth, which is what the producer based it on, Cederholm said.
"We kind of got an idea how the movie set was laid out," he said. "So I tried to duplicate that a little bit."
Everything else in the village is a conglomeration of what he and his wife Darlene have collected over the years, Cederholm said, mentioning there's another area that's Santa's Village. One of their sources for getting the pieces is Bradford Exchange, he said.

This is their fourth Christmas in Chino Valley and they've been setting it up every year they've been here, Cederholm said. Prior to living in Chino Valley, they were able to set the village up at an arts center in Kansas, he said.

Cederholm opens his garage from 6 to 9 p.m. Thursdays through Saturdays and he's located at 1025 Heather Lane. The whole thing takes about two weeks to set up, Cederholm said.
"I try to start around the first of November in order to be done around Thanksgiving," he said. "We try to be open from Thanksgiving to the weekend after New Year's, however that falls."
Every year it more or less has the same outlay, Cederholm said. There are some models that involve fiber optics that always end up at the same spot because of the way they hook up, but he can move the others around a little and even added a couple of streets last year, he said.
Cederholm said that in Kansas, the number of visitors to the Christmas village was probably in the hundreds. In Chino, it's significantly lower, but every year sees more people, Darlene said.
"It's increased every year," she said. "Last year we had 20-some people."
Still, it's a labor of love and Art said he enjoys setting it up just to set it up. This year, he centered it a little bit more so people who come can walk all the way around the display, he said.
For the kids and teens that come see it, he's got a sheet that gets them to look more deeply into the village, Darlene said. The sheet has things for them to count, such as how many cardinals they see in the display, she said. There's also small scenes they can look for. Even the teenagers get a kick out of it, Art said.
"When they first see it, they want it with all the lights off," he said. "When they want to start finding stuff, we'll turn the lights up because there's various bits and pieces and things they can look for."