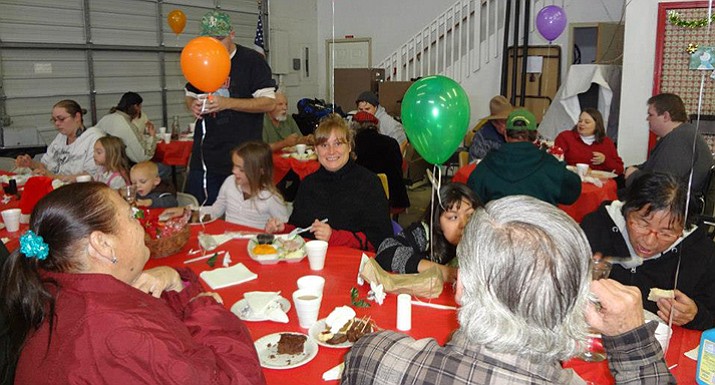 Originally Published: December 6, 2017 6 a.m.
After a two-year long closure of the Paulden Community Center, the Paulden Area Community Organization (PACO) and Paulden Churches United are hosting the annual Christmas Community Dinner.
Starting at 1 p.m. on Saturday, Dec. 9, it's going to be the first Christmas Community Dinner he's ever been a part of, said PACO President Don Nowell.
"I've never seen it before, I've never been a part of it," Nowell said. "We know we have the facility now."
In 2011, Paulden Churches United and PACO sponsored a community sing-along, said PACO Secretary & Communications Chairman Terri McPherson. That was so much fun that for the next year, a dinner was added, McPherson said. However, the last dinner was in 2014 as the Paulden Community Center was shut down in November 2015, leaving a number of organizations without a home and no place for the dinner.
The Community Center reopened in November after two years of getting it to code and for the first Christmas Community Dinner in two years, it's going to be bigger and more exciting, McPherson said. A full Christmas dinner, it's free and open to anyone. PACO provides part of it, Paulden Churches United provides another part and the community kicks in with desserts, she said.
It's really all about community and drawing everyone together, which is why the dinner was started in the first place, McPherson said. It's great to be able to have events in the community, have children and families come together and build strong relationships, she said.
"We were so disappointed to have to stop and that's why we're so excited to start again," McPherson said. "Meeting new people and seeing old friends, it's like a family reunion … you get to see the friends you haven't seen all year long."
The dinner won't be the only Christmas event at the Community Center because on Saturday, Dec. 16, Santa Claus is going to be there too.
In a previous article in the Chino Valley Review, Nowell said that the closure of the community center two years ago was a big blow because what's a community without a center. Now that it's open again, he said he loves having everybody come together.
"You always meet new people and a lot of them are your neighbors that you've never met before," Nowell said. "It's just great to get everybody out there and excited to meet everybody. I always get so excited to go to events."