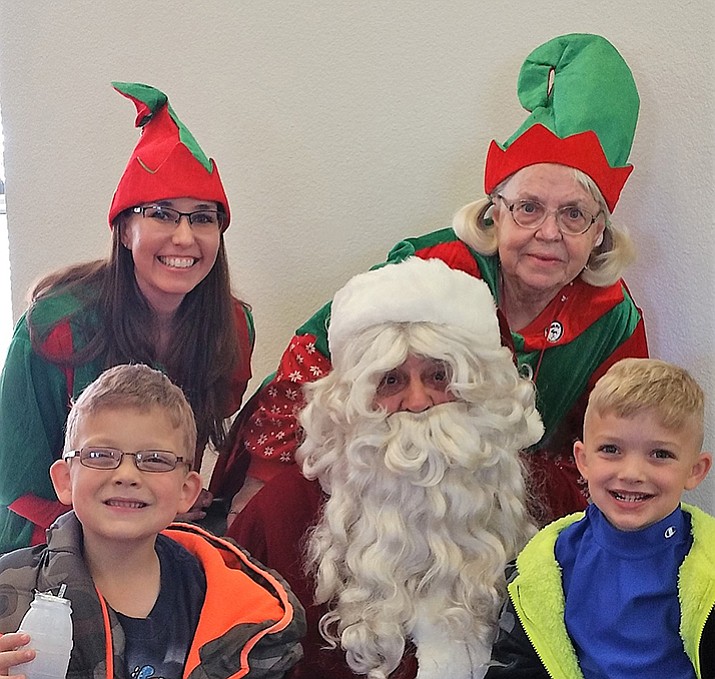 Originally Published: December 6, 2017 5:52 a.m.
Chino Family Christmas
Join the Chino Valley Area Chamber of Commerce and The Town of Chino Valley for this full day of family fun from 10 a.m. to 6 p.m. Saturday, Dec. 9.
Again this year it will be at Heritage Middle School all day (10 a.m. to 4 p.m.) featuring the "Decorate-a-Tree" contest and the most amazing artisans and crafters show and sale. This year refreshments from food trucks and the decorate a gingerbread cookie fund-raiser for the Chino Valley High School Culinary arts department returns (Sponsored by Chino Valley United Methodist Church and their Pastor Mike Keffer). There will be music throughout the day, tree judging with great prizes and of course Santa and Mrs. Clause along with their elves will be there all day ready for holiday picture taking.
New this year will be the "Make an Ornament" booth. Make something special to take home and put on the tree or take it up the street to Memory Park from 4 to 6 p.m. and join the party at Memory Park with Santa, hot chocolate, music and great fun and help decorate and light the Town of Chino Valley Christmas Tree.

The Town and the Chamber have joined forces on this project of bringing you a full day of Christmas Family Fun.
Sponsorship opportunities are available along with tree sign-ups and booth applications on the Chino Valley Area Chamber of Commerce website www.chinovalley.org or call 928-636-2493.
For additional information: director@chinovalley.org.
Paulden's Christmas feast
The fourth annual free community Christmas dinner returns to the Paulden Community Center at 1 to 3 p.m., Saturday, Dec. 9. The Community Center is located at 24050 N. Marblehead. Come out, eat, and meet your neighbors as they celebrate the holiday season.
Chino Valley Explorers
Sign up if you're between 10 and 17 years of age. The Explorers teach and share outdoor skills, including fire starting, primitive survival skills, knots, make a sundial, local entomology (bugs), making water filters, "bugout" bags, solar cooking, first aid, and more. Second and fourth Saturdays of every month, 10 to 11:30 a.m., beginning Jan. 13. Meet at First Southern Baptist Church, Building C. Adult supervision, safe environment. Learn great things and have fun! Call 928-636-8895 with questions.
Christmas books in December
Visit Friends of the Chino Valley Public Library Bookstore located at 1020 Palomino Chino Valley during the month of December for Christmas Books. We have cookbooks, Christmas idea's, Christmas stories and children's books, movies and music.

Remember a gently used book makes a great gift and all proceeds benefit the library.
Red Kettle Volunteers
The Salvation Army serving Chino Valley and Paulden seeks volunteers to be bell ringers during December prior to Christmas. The blocks of time are two hours on Fridays or Saturdays. Individuals, families, public offices, church and school groups or businesses are needed to volunteer. Use a poster to advertise a group or business name to the community. Small countertop Red Kettles are also available to place in businesses. Join the fun.
If interested, call Al Gibbons at 928-713-8996.
Paulden Community Meeting
We're so excited to be able to meet again at the Paulden Community Center, 24050 N. Marblehead. All meetings will now be held there. Join us 7 p.m. on Dec. 7. We will be receiving donations for our annual blanket drive. You can either make financial donations or if you'd prefer, bring in a new or gently used blanket or comforter of any size and we will be distributing those at a later date to residents in need.

Blood Drive at St. Luke's on Wednesday, Dec. 6
Give Blood, Get Pizza!
Make your appointment now to donate blood on Wednesday, Dec. 6, between the hours of 10 a.m. and 2 p.m. at St. Luke's Episcopal Church. When you give blood, you will receive a voucher for a free 14-inch cheese pizza, donated by Streets of New York. To schedule an appointment, please visit www.bloodhero.com (Sponsor code: StLukesEC). If you have questions, please Contact Charlotte Willman at 928-778-4499 or Darrell Anderson at 928-710-8932. St. Luke's Episcopal Church is located at 2000 Shepherds Lane, Prescott (near the airport, at 89 and Ruger Road).

#MeToo Rally
4-5 p.m., Wed., Dec. 6, #MeToo Rally at the Yavapai County Courthouse Plaza, Gurley and Montezuma streets. Bring signs supporting women, opposing sexual harassment and violence. Sponsored by the Prescott Indivisible Human Rights Team.
Peter, Paul & Mary Christmas holiday experience
Just in time for the holiday season, the Prescott area's own popular Peter, Paul, and Mary tribute group, MacDougal Street West, will be offering A Peter, Paul & Mary Christmas Holiday Experience at the Adult Center of Prescott on Wednesday, Dec. 6. This 90-minute show features many of the songs from Peter, Paul and Mary's holiday concert and many of their greatest year round hits.
Doors will open at 6 p.m. for the 6:30 p.m. show at 1280 E. Rosser St. The ticket price is $15 each (cash only) at the door or only $12 if purchased online at www.macdougalstreetwest.bpt.me.
Stocking Stuffer
Registration is now open for booth space at the Last-Minute Non-Profit Stocking-Stuffer Bazaar, to be held Saturday, Dec. 16 from 10 a.m. to 4 p.m. at the Prescott Activity Center, 824 East Gurley. All nonprofit agencies, clubs, school or scout groups are invited to participate. For more information, visit www.Stocking-Stuffer-Bazaar.com.
Free Christmas concert and nativity display
Capture more of the Christmas spirit this season by attending the 6th Annual Community Christmas Concert and Nativity Display on Sunday, Dec. 10. The live concert will feature traditional music celebrating the birth of Jesus Christ.
This free concert and singing celebration is hosted by the Prescott Valley Arizona Stake of The Church of Jesus Christ of Latter-day Saints.
The concert begins at 7 p.m. in the LDS Stake Center Chapel located at 7073 Pronghorn Ranch Parkway in Prescott Valley near the intersection of Highway 89A and Viewpoint Drive.
The program will include a choir and orchestra under the direction of Glennis Miller. The public will be invited to join the choir in the singing of traditional Christmas carols.
The doors open at 5:45 p.m. to view nativity sets from around the world. Refreshments will be served after the program.