Originally Published: December 6, 2017 6:01 a.m.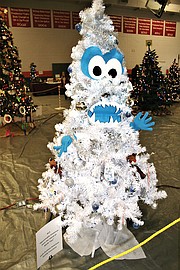 Refining the event to be even more fun than last year, Chino Family Christmas is a great way to get your holiday shopping done knowing that nothing there will be duplicated anywhere else, said Chino Valley Chamber of Commerce Director Arlene Alen.
"You can really feel secure that whether you're giving this gift to someone in Chino or across the country, that they don't have it already. And the money stays in the community," Alen said. "You're helping your neighbors at the same time, have a great day with the kids, come out and play."
This year's Chino Family Christmas is Saturday, Dec. 9 at Heritage Middle School and this year, the Chamber is working with the Town of Chino Valley to put both of its events together, she said. from 10 a.m. to 4 p.m. is Chino Family Christmas and then from 4 to 6 p.m., Santa, Mrs. Claus and everyone else will go to Memory Park to light the tree, Alen said.
The town has a Decorate an Ornament booth and people who participate can either take their ornament home or over to the park and hang it on the town tree, she said.

"The town's going to save those ornaments year over year and they'll always be on the town tree," Alen said. "That'll help us grow this event even more for next year and work together even more closely."
There's also the Decorate a Gingerbread Cookie booth, manned by the Lionesses with the cookies and icing made by Chino Valley High School's culinary arts department, she said. Funds raised there from donations will go to the culinary arts students, Alen said.
One of the most popular aspects to Chino Family Christmas is the decorate a tree contest where businesses, nonprofits and individuals can sign up for a tree space, bring one and decorate it with their own branding, she said.
"The quilting guild, who always has an amazing tree and is a frequent winner, they put quilted ornaments on their tree," Alen said. "The feed stores put horseshoes and make trees out of horseshoes and barbed wire. The winners last year were so creative."
Not only are there official judges for the contest, but the public gets to have say for a people's choice award too, she said. Some have even followed the judges around to hear their opinions, Alen said.
With food trucks and other surprises in store, the event will be full up with vendors, she said. In fact, people start calling in August to make sure they get a spot and are at the Chamber's doorstep the first day registration opens and as of Thursday, Nov. 30, there was only one spot left for vendors, Alen said.
"There's a reason for that. We have really good vendors and they want to be in that group of really good vendors. It's a good event and a lot of people come," she said. "More importantly, it's a local showcase where you can shop local and support your neighbors and the things they do."