Originally Published: August 9, 2017 6:01 a.m.
Photo Gallery
Territorial Elementary First Day Of School 080817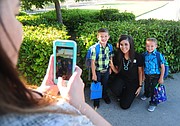 Chino Valley Unified School District marks its centennial this school year — and its foremost cheerleaders assure there will be much to celebrate starting with the students' first day, which was scheduled for Tuesday, Aug. 8.
"I'm excited we're starting our 100th year," said District Superintendent John Scholl of this distinction that was launched with an all-staff meeting and photo shoot and T-shirts.
The district's heritage — one that has evolved over time — has long been one of encouraging students to make the most out of every opportunity, a tradition Scholl suggests needs to be continued and nurtured.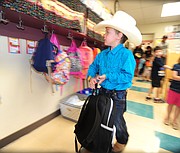 "I just hope they (students) get as much as they can out of school," Scholl said. "There is so much going on. So many diverse choices. We hope to have something for everybody."
District Assistant Superintendent Cindy Daniels concurs.
The centennial is a chance to challenge all Cougars — past and present — to become Chino district cheerleaders; the community will commemorate the celebration as part of its annual Territorial Days with former Cougars and educators invited to participate in the Labor Day weekend festivities, Scholl and Daniels said. The events will kick off with a barbecue dinner on Friday Sept. 1 with tickets for the dinner to include the season opener football game.
On Saturday, Sept. 2, the dawn-to-dusk festivities will include a parade and the ever popular corn dinner.
"I'd say that's kind of a big deal," Daniels said.
In this 100th year, the district will champion changes intended to enhance and enlighten Chino's cherished constituents — children from pre-school to high school senior, district leaders said.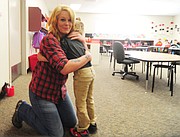 Territorial Early Childhood Learning Center is becoming a pre-K to second-grade school, with 160 first-graders joining that class, Scholl said.
That transforms Del Rio Elementary into a third- through fifth-grade school of about 500 students, he said.
This configuration for the 250-staff district completes the reorganization of the four schools that are all averaging in the 500-range, although Territorial is now the largest school in the district, Scholl said.
The changes allow for better teacher collaborations and offers a transition year for fifth-graders who once were at the middle school.
Del Rio now has room for a new computer laboratory and a classroom on the south side that faces Route 2 North has been retrofitted into a new office that will improve safety and convenience on the campus, Scholl said.
Chino Valley High has a new principal, Heidi Wolf, who served as assistant principal last year.
The new assistant principal Brian Pereira, a returning Chino Valley educator from the Ask Fork district.
"This will be a nice, smooth transition," Scholl said.
The district this year has 26 new teachers spread across the grades, and the high school is expanding its dual enrollment courses with Yavapai College, including offering two college-level biology courses.
The high school, too, has added German as a second foreign language, Daniels said.
At Heritage Middle School, the district administration has added some new career and technology courses as well as some additional electives, she said.
"We're really excited to celebrate the second century as a school district," Daniels said.