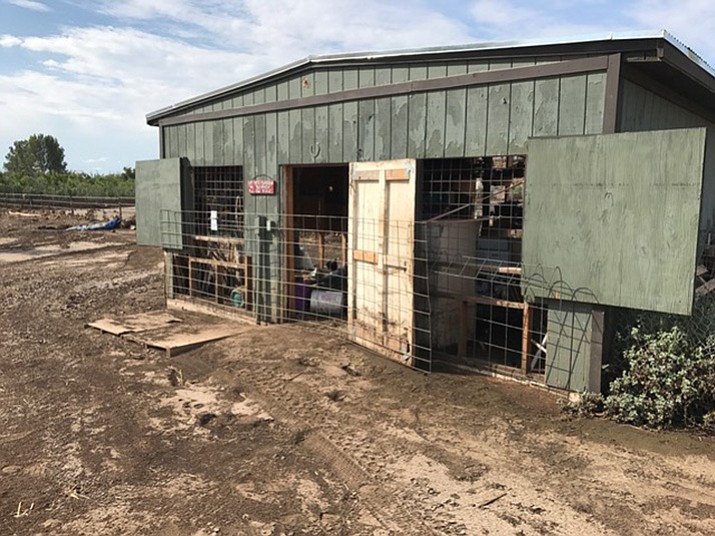 Originally Published: August 6, 2017 6:02 a.m.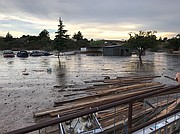 Paul Teolis watched helplessly as his 5-acre property was all but wiped out by a major flood on July 19.
The Spring Valley resident lives alongside Big Bug Creek. That Wednesday afternoon, the creek took on a nature Teolis has never seen in his four years of living there.
"I've never seen it run bank to bank this hard," he said.
While the Mayer and Spring Valley areas received a good amount of precipitation that day, it was nowhere near a 100-year rainfall event, said Yavapai County Flood Control District Director Dan Cherry.
However, due to the upstream burn scar left by this summer's Goodwin Fire, the runoff was severe.
"It was certainly approaching 50-100 year type inundation limits," Cherry said.
As a result, Teolis's outhouses were filled with water; several of the cars on his property were submerged; his 4,000-square-foot home was compromised as water made its way under the foundation; his barn filled with two feet of mud; and a major portion of a six-foot chain-link fence encompassing the property was flattened by rushing rapids and the debris brought with it.
Getting by
Teolis relies on Social Security to get by. He stopped working when he was diagnosed with chronic inflammatory delaminating polyneuropathy, an acquired immune-mediated inflammatory disorder of the peripheral nervous system.
"Some of the nerves are essentially stripped of their protective coating, so they short out," Teolis said. "My hands start locking up, my legs go numb, I get dizzy and stress enhances it."
While he does have flood and homeowner's insurance, those will only cover the house itself, he said.
"So here I am disabled, got hundreds of thousands worth of damage and I can't physically do the work myself," Teolis said. "I don't have the money to rebuild the barn or put up the $15,000 worth of fencing that was ripped down. I'm stuck and really don't know what to do."
The fencing was primarily in place to protect the 25 or so animals he has on the property. Without it, predators have been moving in.
"I have bobcats and coyotes just picking out chickens left and right," Teolis said. "I can't protect the animals."
Dam backwater
While Teolis recognizes his property borders a creek and understands that the risk of flooding has been increased by Goodwin Fire burn scar, he believes much of the flooding he experienced was a result of a partially breached dam just downstream of his property.
The dam was owned by the Yavapai County Flood Control District and had existed for decades before Teolis bought his property, Cherry said.
A couple months before and a couple weeks after the Goodwin Fire, Teolis contacted the Flood Control District several times with concerns about this dam.
He believed that if there were a major flooding event, the remainder of the dam would impede water and debris from making its way downstream and cause the water to instead backlog onto his property.
From his account of the July 19 event (which he has video of), that's exactly what happened.
"I watched the thing get plugged up," Teolis said. "I watched that creek run, I saw it start to slow down cause it had jammed, and then it came in this direction toward me."
Cherry acknowledges that Teolis had brought his concerns to the district in months leading up to July 19. However, he and his colleagues did not see the dam as a threat to Teolis' property.
"We felt that the height of the dam was such that in a large flood event, [the water] would just be going over the top of it anyway and didn't think there would be any significant backwater," Cherry said. "I would say, based on what I witnessed after the flood event and from video that was taken during the flood event from Paul and other folks, it was going over the top of the dam."
According to his assessment, Cherry believes most of the flooding on Paul's property was more simply a result of overbanked flow that was coming from the creek.
"A large part of his property is within the flood plain," Cherry said.
Dam comes down
Following the event, however, Cherry did discuss the matter further with his project manager and they decided to hire a small contractor to break up the remainder of the small dam.
"I want to be very clear that I don't consider that an admission of guilt on our part," Cherry said.
Rather, he said the district had been asking those who live along the creek to clear out any sort of debris to improve flows as much as possible in anticipation of additional major flooding events and thought it should do its part as well.
"If we're asking other people to do things, maybe we should be doing the same thing on our own property," Cherry said.
EDITOR'S NOTE — The Courier will continue to follow Teolis' situation.
Related Stories