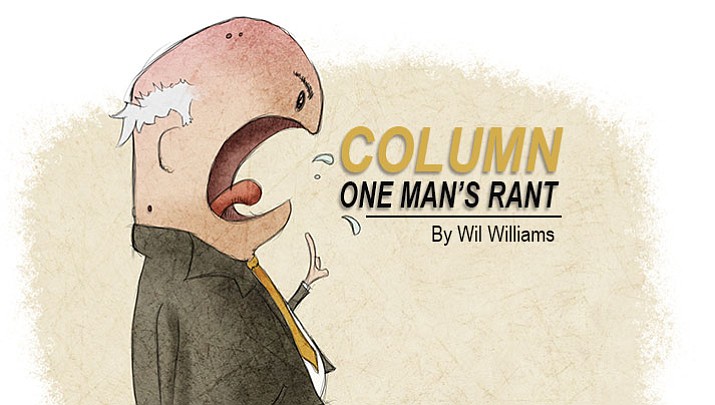 Originally Published: April 19, 2017 6 a.m.
This column accomplishes a publishing feat never before attempted in this part of the country. I'm going to introduce two high-profile personalities in the entertainment world to you, then I'll tell you how they were connected even though they never met.
Wardell Edwin was born in 1903 in Benkelman, Nebraska. You've probably never heard of Benkelman, Nebraska, but if you're over the age of 60, you practically grew up with Wardell. Now let's not get ahead of the story — and don't you dare skip to the middle of the column to find out who he was!
Wardell, his parents and sister moved to Denver in 1919 where he graduated from East High School. He then attended the University of Southern California. He was a starting lineman on the USC football squad that won the school's first national championship in 1928. It just so happens that Marion Michael Morrison played tackle on the USC team in 1926. Marion, better known as John Wayne, and Wardell became lifelong friends. Wardell's acting career began when he, John Wayne and the entire USC football team were featured in the 1929 movie Salute.

In the looming shadow of World War II, Wardell was rejected by the draft since he was epileptic, but he was extremely active during the 1940s, appearing in some 45 movies. He was in 31 films in 1935, alone. His career spanned more than 250 films. Of those, he appeared in 23 with John Wayne. Although his career was spent in supporting roles, he became one of the most recognized character actors in Hollywood history.

Among his more famous screen credits were Drums Along the Mohawk, The Quiet Man, It's a Wonderful Life, Gone with the Wind, The Maltese Falcon and The Grapes of Wrath.

With all these clues, you still might not know the identity of the actor in question, but if I mentioned just one television production that featured him from 1957 until his death in 1960, you'd guess his name. He was born Wardell Edwin Bond. You knew him as Ward Bond and as wagon master Major Seth Adams of Wagon Train.
Our second celebrity in today's column was born in 1858. John's mother wanted him to enter the priesthood so he did. But John preferred drinking, carousing and fighting to saving men's souls, so he soon left the clerical robes behind.
For a while he worked as a hod carrier, an assistant plumber and tinsmith. John not only displayed awesome physical power, but also an athleticism that found him playing semi-pro baseball in Boston. He was then offered a contract by the Cincinnati Red Stockings in the early years of major league baseball, but he declined.
In 1877 at the tender age of 19, he entered the ring to face boxer Tom Scannel who challenged all comers to go just three rounds with him. Breaking from a handshake, Scannel sucker-punched John who responded with a right to the jaw sending Scannel into the orchestra pit. That brief exchange at the Dudley Opera House in Boston launched an historic boxing career. John L Sullivan was the first heavyweight champion of gloved boxing, holding the title from 1882 to 1892. He is generally recognized as the last heavyweight champion of bare-knuckle boxing under the London Prize Ring Rules.

So what's the connection between Ward Bond and John L. Sullivan? For 1 hour and 45 minutes, Ward Bond was John L. Sullivan in the 1942 movie Gentleman Jim in which James J. Corbett (Errol Flynn) defeats Sullivan for the 1892 heavyweight championship!
To comment on this column, email wilaugust46@gmail.com.