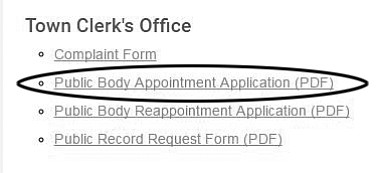 Originally Published: April 19, 2017 6 a.m.
The Town of Chino Valley is looking for candidates to fill a vacancy on the seven-member council following the resignation of Susie Cuka.
The new council member would fill the position for 19 months as Cuka's term would have expired in December 2018. The council meets on the second and fourth Tuesdays of each month at 6 p.m. Special meetings and study sessions also may take place during the month on Tuesdays.
Council looked at a proposed timeline at the April 11 meeting. Town Clerk Jami Lewis said filling the position would be similar to the procedure followed in 2015.
The town will run an advertisement in the Chino Valley Review and Daily Courier, and in media outlets including the town website, Facebook, Chamber website, and other social media. Applicants have until 5 p.m. on May 1 to submit their applications.
Lewis said applicants must be 18 years old, a qualified elector, and have resided within town limits for at least one year preceding appointment.
Candidates will preferably have some experience and/or knowledge of, or willingness to learn about, local government, applicable state and local laws, and procedures; willingness and ability to prepare for and attend meetings; and a desire to serve the entire community of Chino Valley.
Staff will review the applications for completeness. Mayor Darryl Croft and Lewis will review the applications next and schedule interviews before the Appointments Subcommittee (if one to five applicants). More than five applicants triggers a subcommittee meeting to review and determine the top four or five applicants to interview.
Council voted unanimously to accept the timeframe as presented. This includes the June 13 council meeting at which finalists are interviewed in executive session and the top applicant will take the oath of office and be seated.
Interested, qualified candidates can obtain a Public Body Appointment Application at Chino Valley Town Hall, 202 N. State Route 89 or online at http://www.chinoaz.net/345/Forms. Applications should include a brief resume or summary that describes relevant experience and reasons for interest in the position.
Submit application to Chino Valley Town Hall, by fax at 928-636-2144, or by email to jlewis@chinoaz.net. For more information, call 928-636-2646, ext. 1052.