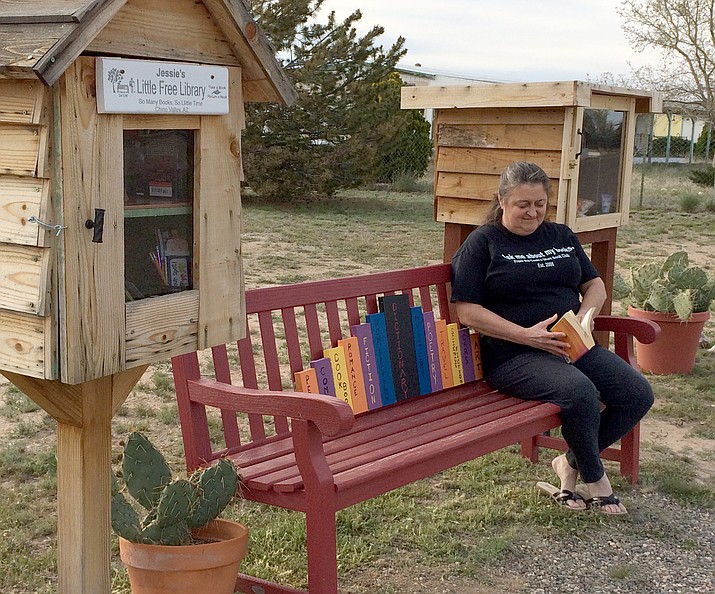 Photo by Sue Tone.
Originally Published: April 19, 2017 6:02 a.m.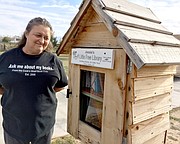 First there was a Little Free Library (No. 34126) in Jessie Spring's front yard in November 2015. The Blessing Box came a year later. A teak bench sits between them offering a place to browse books, sit and give thanks for a can of soup, or perhaps just a place to rest.
Even though her mother died 27 years ago, and a nephew more recently, Spring said she dedicated the Blessing Box to these two family members, Evelyn and Chris. She's making a sign that will read "Evelyn's and Chris' Blessing Box. Take what you need. Give what you can. God bless."
Growing up in Ohio, the Chino Valley resident said her mother, who died of cancer at age 51, was always helping someone. For instance, she remembers feeding a little girl from down the street.
The Blessing Box contains non-perishable food, hygiene products, and seasonal items. Most recently, she included a flowerpot, bunny ears and other Easter items. Other times of the year, the box may hold Halloween costumes or Valentine's Day cards. A friend donates hair products and clips.
Spring's daughter is a librarian in Ohio and mailed 15 books this past Christmas to place in Jessie's Little Free Library — the first one in Chino Valley, Spring said. She rotates the books, giving the lesser-read and not-so-popular ones to the Friends of the Chino Valley Library.
"I think everybody in the world should have the opportunity to have a book," she said. "I'm really proud of my little boxes."
This past summer, she placed a basket on the bench that contained squirt guns. Several boys stopped, looked through the books, picked out one or two, and rode away with the water guns sticking out of their waistbands, "just like cowboys," Spring said with a laugh.
The neighborhood seems to appreciate both boxes, with people exchanging books or dropping off canned or packaged food. Toward the end of the month, Spring said she notices how the supply gets low or disappears. There is a need to help the hungry in the community, she said.
Recently, she added a row of wooden book titles to the bench and chained it to the boxes. Previously, someone took off with the 8-foot bench, but returned it soon thereafter, saying he thought it was free.


Spring said Chino Valley now has three Little Free Libraries registered with the company. Her sign reads "Jessie's Little Free Library. Take a book. Leave a book. So Many Books. So Little Time."
"Mine is the prettiest one around," she said of the wood-shingled box with glass-fronted door, adding that her library has a Facebook page. She stamps her books with "Always a gift and never for sale."
Her main need continues to be children's books and food items.
A guest book is available for comments. Brody K. wrote "I like reading all kinds of books. It's like a palace to me. I got Dolphin Diaries." Someone else wrote, "Really cool thing to see in Chino. I'll be back. Thanks."
To participate or donate, visit Jessie's Little Free Library or Blessing Box at 2100 N. Maricopa St. off West Road 3 North.