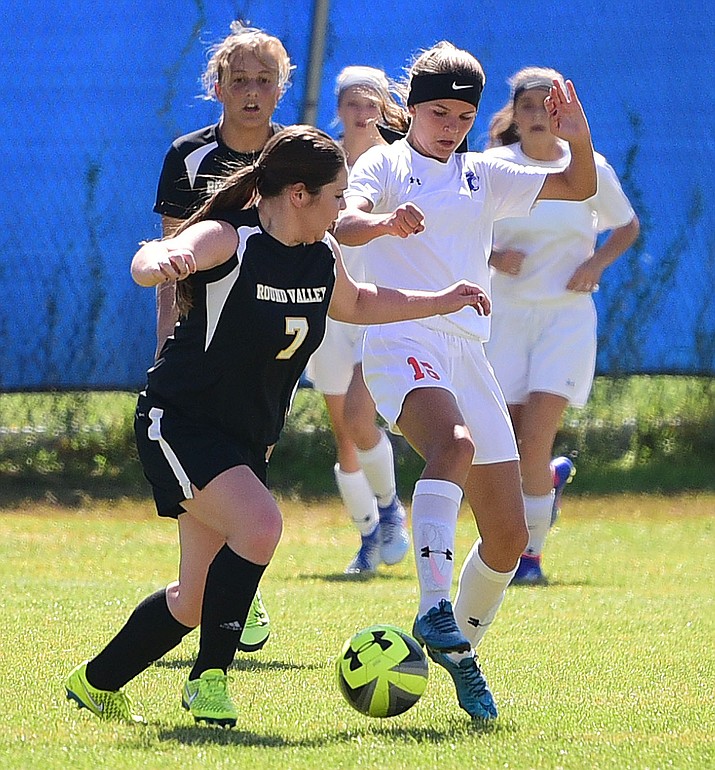 Photo by Les Stukenberg.
Originally Published: October 30, 2016 6 a.m.
TEMPE — This weekend, both of Chino Valley High's soccer teams qualified for the 2A Classification state championships next Saturday, Nov. 5, in Gilbert.
At Benedict Sports Park, the three-time defending small-schools state champion Chino boys shut out Desert Christian, 2-0, in the quarterfinals on Friday, before edging Camp Verde, 2-1, in the semifinals on Saturday.
Meanwhile, the 2A No. 1-ranked Chino girls came from behind to beat four-time defending small-schools state champion Lakeside Blue Ridge, 2-1, in the semifinals Saturday.
The Cougars' boys will take on No. 1-ranked Blue Ridge, their rival which they've defeated for the state championship in each of the past three years, at 3:30 p.m. Nov. 5 at Campo Verde High School in Gilbert.
Chino's girls will play for the 2A state championship against second-seeded and defending state runner-up Round Valley immediately beforehand, at 1 p.m., also at Campo Verde.Round Valley edged third-seeded Northland Prep, 2-1, in the other semifinal.
Versus Blue Ridge, the Cougars trailed 1-0 at halftime before bouncing back behind forward Katie Farnsworth's two goals in the second half. Ashley McGuffy had an assist for 19-0-1 Chino.
"It was a great all-around team effort," Chino coach Allen Foster said. "We might have been affected by the heat [of the Phoenix area] in the beginning and a little nervous. But we made a couple of adjustments and finished strong."
Bagdad football advances to state semifinals after 66-26 win over Hayden
BAGDAD — Bagdad High's 1A No. 1-ranked football team stayed undefeated on Friday night, Oct. 29, eliminating ninth-seeded Hayden in the state tournament with a 66-26 quarterfinals win at home.
"We started slow, and they did a good job of slowing the pace," Bagdad coach Dalton Mills said of Hayden. "But we did a good job of handling some adversity."
Bagdad junior quarterback Israel Loveall completed 18-of-20 passes for 312 yards and seven touchdowns. In the process, Loveall set a new Class 1A record for career TD passes with 99 (previous record was 92).
Sultans wideout Ben Loveall caught five of those seven TDs for 174 yards. Michael Mendez had five receptions for 113 yards and two TDs. He also kicked two extra points. Connor Pacheco (47-yard TD catch) and Devin Nelson (five carries for 91 yards and two TDs) played key roles, too.
Defensively, Jorden O'Neill led the way for the hosts with six solo tackles, five assisted tackles and 2-1/2 sacks.
The Sultans (9-0 overall record) move on to the 1A semifinals at 6:30 p.m. this Saturday, Nov. 5, when they battle fourth-seeded St. David (7-2) at Maricopa High School south of Phoenix. Bagdad beat St. David, 80-56, on Oct. 7.
All of the top-four seeds in the 12-team tournament advanced to the semis, as No. 3 Williams (8-1) will take on No. 2 Superior (8-0) in the other semifinal at 2 p.m. Nov. 5, also at Maricopa High.
Semifinal winners will advance to the state championship game at 6 p.m. Saturday, Nov. 12, at Maricopa.