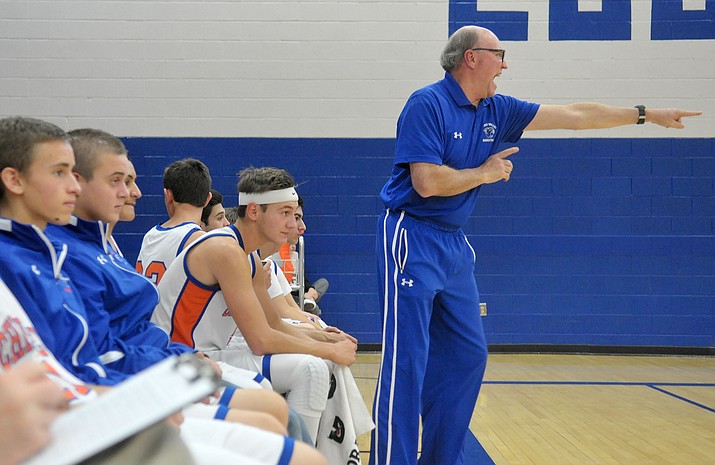 Photo by Matt Hinshaw.
Originally Published: November 23, 2016 4:18 a.m.
It's been a long eight years since the last winning season for the Chino Valley High School boys basketball team. The coach and players say that drought should end this season.
"This is the third year of developing the program, rebuilding the program," coach Mike Fogel said. "I have a group of seniors who have been working with me now, this is their third season, they've worked hard, they know the system, they understand how to play basketball, so I expect that we'll have the best team we've had in three years."
Fogel, the school's coach from 1993 through 1998, was asked to take over the program before the 2014-15 season to bring it some stability.
He was the Cougars' fifth coach in three years when he was hired. That first year back was a tough one, ending with a 3-23 record.
Last year Chino Valley showed improvement, winning the Williams Route 66 and Mayer Holiday tournaments and finishing 12-13.
With that core group of seniors returning for their final high school season, expectations have risen.
"This is probably going to be the best team we've seen in 10 or 15 years," said senior Jayden Loftin. "We're really good, and we've been playing together for a long time. We'll probably be pretty good playoff contenders."
The Cougars lost only one senior from last season, Garret King.
Leading this year's team are seniors Brian Sutton (point guard), Skylar Brooks (off guard), and Loftin (swing).
"We're going to be a really good offensive team," Sutton said.
Joining them in the probably starting lineup are junior Gavin Cluff (6-foot-3) and a senior transfer, Gavin Thompson (6-2).
"We're not big, but we're seasoned and we've got some quickness, and actually some very good offensive weapons that's going to make a difference for us. We've got three or four guys who can hit a 3-point shot consistently."
Fogel said they have good depth on the bench and will be relying on those players as well, including backup point guard Anthony Granillo and shooting guard Tyler Hixon.
"We're going to be a really good offensive team," Fogel said. "The big task is getting them to play defense when they need to. But they know, because of the last couple of years, that you can't win without playing defense."
Fogel said having such an experienced group means that he is spending more time in practice refining the offense and defense, and less time teaching the basics.
"I've been working on defense, I've struggled with it for the past two years," Brooks said. "This year is going to be better."
During Fogel's first stint as Chino's coach his best year came during the 1995-96 season, leading the Cougars to a 19-9 record and the 3A state quarterfinals. Because of this team's experience, and quickness, he said this should be a winning team.
With so many seniors on this year's team, what happens when they graduate? No need to worry, Fogel said. The school district recently added a second junior varsity team.
"We've added another team, to develop more kids fundamentally," he said. "That provides continuity for the program. It's an extremely important component."
Stability, exactly what Fogel was asked to bring to the Cougars when they asked him to come back two years ago.