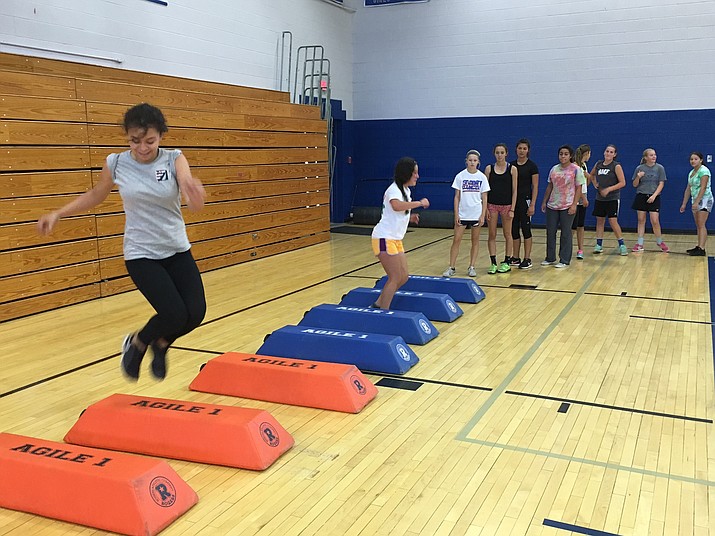 Photo by Ken Sain.
Originally Published: June 15, 2016 5:02 a.m.
Ah, summer is here and school is out. If you're a high school student that means it's time to sleep in, play games on the Xbox, relax by the pool.
Unless you're a high school athlete.
If you're an athlete, there is weight training or wrestling practice in the morning, then open gym basketball to work on your skills, then off to soccer games in the afternoon. Mix in a summer job and try to find a few hours for the girlfriend or boyfriend, and summer can be busier than the school year.
"You get sore quick," said Andrew Granillo, a rising senior at Chino Valley High School. He is playing basketball and football this summer.
"It's time consuming, you have to plan everything out, but it keeps you busy," said Gavin Thompson, also a rising senior who plays basketball and football.
The busy summer is a nice introduction to adulthood, one coach says.
"It teaches them time management skills," boys basketball coach Mike Fogel said. "I tell them, there are enough hours in the day to do everything you want to do."
Fogel said that he'll go over an athlete's schedule and show them how to balance their demands. Coaches talk to each other to try and make it easier on the athletes, Fogel said.
For example, most of the football team's summer passing league games are on weekdays, so Fogel has signed up his basketball team for weekend tournaments.
"There are late nights, that can be hard sometimes," said Sabrina Sutton, the mother of basketball player Brian Sutton. Her son also plays baseball, but gave up that sport this summer to get a job.
It's not just boys who keep busy. Girls have their summer teams too.
"We have about 20 out now, and I'd say of those 20, about eight [participate in multiple sports]," girls soccer coach Allen Foster said.
Foster said that all athletes tend to progress even more in the summer than during the season.
"It's huge, especially for soccer, and I imagine volleyball, because we run right into the season," he said. "We just played Round Valley on Tuesday, it's the same team that beat us in the state semifinals last year 2-1. We beat them 8-1, and that's the first thing [the opposing coach] said, 'You guys haven't quit practicing.'"
Chima Gomez, a rising senior on the soccer team, said she wakes up every morning around 6:30 a.m. to come to morning practice, then returns home to do her chores before she gets ready for work, then goes to work at a local restaurant. She gets home late at night, sleeps then repeats the next day.
"I think it's better that I'm busy," Gomez said. "It's better to have something to do."
Summer programs are vital to how well athletes perform during the school year, said football coach Wade Krug.
"It's not just important for my athletes, but all athletes," he said. "High school sports has become super competitive right now. If you're not lifting weights in the offseason … we're going to be behind, and we're physically going to be overmatched."
But the work they put in over the summer pays off, and even players say they can see the improvement.
"You see improvement over the summer in everyone who comes," Thompson said. "The ones who don't, it's kind of frustrating, but you hope they catch up."
Those must be the sleeping in at home, or splashing around in the pool. But serious athletes are different.
"You can't keep them away," Sabrina Sutton said. "It's better than if they were at home playing on the Xbox. It keeps them active."
Follow Ken Sain on Twitter @ksainjr. Reach him at 928-445-3333 ext. 2021, or 928-420-5341 or email him at ksain@prescottaz.com.