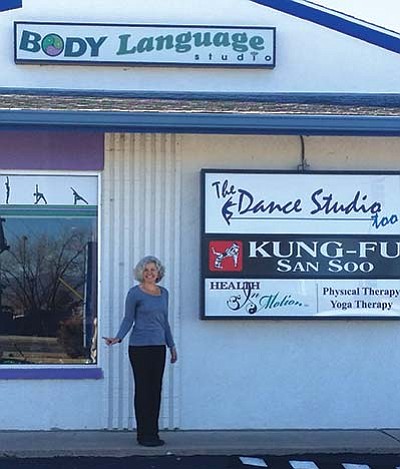 Originally Published: January 6, 2016 1:33 a.m.
Cheryl Van Demark had been a physical therapist for 30 years, and practicing yoga for 15 years when she decided to open her business Body Language Studio, about eight years ago. Body Language is located at 990 N. Highway 89 here in Chino Valley.
"I believe yoga is a superior way to promote your health, and I wanted to bring this to the community I live in," Cheryl said.
"Yoga not only helps physical benefits, but it has been well documented to have mental benefits like coping with stress, besides giving a person vitality and energy. It only takes a couple of months to realize the benefits," she added.
Body Language Studio is open six days a week with classes available morning, afternoon and evening.
There are other related businesses available at Body Language Studio like the dance studio, Kung Fu San Soo, and Natural Healing Garden Wellness Center.
Call Cheryl at 636-2007 or go to the website Bodylanguagestudio.net.
- Diane DeHamer