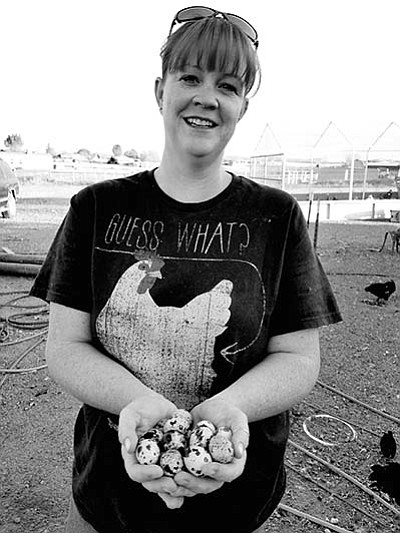 Originally Published: April 13, 2016 5:59 a.m.
Legend says that the pickling of vegetables has been around since the Middle Ages. Early Americans preserved a lot of their food by pickling. Today many people still can and pickle the produce from their gardens. Pam Baker and Dave Harris of "Windswept Farm" do both and have come up with many types of pickled foods that they enjoy making.
"This all started because one day Dave saw a jar of pickles in the fridge and said 'we should save this pickle juice and make some pickled eggs,' and this is what started our business," Baker said.
"Over the past five years I've experimented with various recipes and brines for my pickled products, my newest flavor for my pickled eggs (which consists of their own chicken and quail eggs) is 'Steak and Eggs' which tastes like steak sauce.
Baker and Harris grow much of their produce on their property, and they also lease another 20 acres where they obtain their prickly pears for their jellies and syrups, which includes jalapeño and watermelon jelly too.
"Pam uses an old recipe of my grandmothers for the brine on all of her vegetables like asparagus, green beans, okra, green tomatoes and more," Harris said.
Because Baker and Harris also raise Muscovy duck, they have a plan to also start making a Slim Jim style meat sticks to add to their pickled eggs, of which they are now selling in four local businesses, and are interested in setting up a booth to sell their products at local events in the area.
"By adding the meat sticks to our eggs that will be our protein pack which is great to take camping and hiking too. In the future we have lots of plans to expand our products which will also include pigs and cows," Baker said.
"I enjoy canning and pickling things and I get such a feeling of satisfaction and accomplishment because I know what went into the products of what we are eating," Baker said.
"I also like wowing people with all my flavors," she smiled.
To contact Baker and Harris call 928-713-9339 or email windswept.acres@outlook.com, or to view the products go to http://goo.gl/Oohl1A.