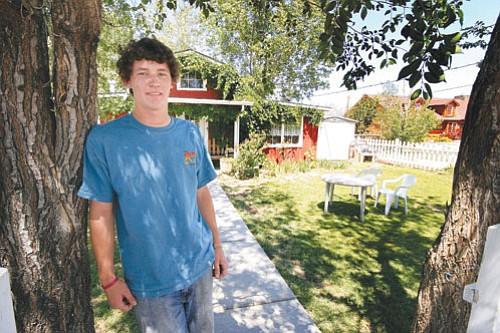 Originally Published: June 4, 2008 8:21 a.m.
The school year is over and that means, for senior athletes at Chino Valley High School (CVHS), their days in a Cougar uniform have come to an end. For Cody Rafters, who spent his entire four years wearing a Cougar baseball uniform and three years in a CVHS basketball jersey, shedding his Cougar skin may take some doing.
After seven combined seasons wearing the blue, how does one make the transition into "civilian" life? For Rafters, the move may not be so hard.
On June 14, Rafters will join a host of fellow competitors at an invitational tryout for the Yavapai College Roughriders men's basketball program led by Roughrider Head Coach Howard Brown. Not an easy program to break into, playing for the Roughriders has been a long-time goal for Rafters, who grew up watching a variety of Yavapai athletic programs.
"It means a lot to me to get invited," said Rafters on a recent Sunday morning. "I grew up watching Yavapai sports - baseball, basketball and soccer. I always thought they were amazing. I never thought I would be able to play at their level. And now, they're asking me for a tryout - that's pretty good."
Pretty good indeed for Rafters in a year full of highs and lows. From competing for State Championship titles in both baseball and basketball and then, just weeks before graduation, losing one of his closest friends to illness. Through it all, one thing that was never missing from Rafters' game was his trademark grin. Win or lose, Cody made sure he enjoyed the game.
"Always look on the brighter side of things. That's what my family encourages me to do" said Rafters during a break from waiting tables at the family's Chino Valley restaurant, The Old Red Barn. Not that losing is any fun.
"I always want to win; I always want to do my best," he added. "But if I'm down on myself, if we're losing a game, then I can't perform at my best. If I'm having fun, then I can play the best I can. That's how I know how to play; that's how I've always played. I love to play the game."
As he prepares for the June 14 workout, Rafters hopes for the best, but knows it won't be easy. His positive outlook and personal growth over the past year will dictate how he deals with the outcome of this or any future challenges that he will face.
"I've talked to coach (Brown) a little bit, gave him my background and he's familiar with my play. This is the first step. After the work out we'll know more," Cody said.
Cody credits that what he's learned from his family, his coaches and teammates over the years makes him who he is. He also hopes he will leave an impression on the younger players with whom he has competed.
"I've matured a lot during my time," he said. "I've played up to a lot of the guys, coming in as a younger player. Played up to the older guys' level. Now, this year, I was the senior and I hope I was a leader to them. I care for my teammates and tried to show them a strong work ethic. I hope they feel that I brought the same out in them."
On pursuing basketball over baseball, Rafters said that he enjoys both sports but feels he has a stronger future in basketball.
"It's my sport of choice," he said. "I think I'm better at basketball and I can improve more in basketball."
Will it work out? Will Rafters succeed as a Rough-rider? Only time will tell. But whatever he does you can count on his doing it with all that's he's got in him and with that trademark grin.