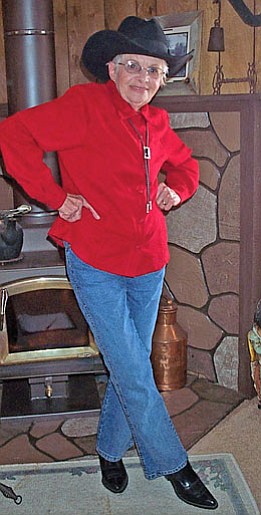 Originally Published: January 7, 2008 5:55 p.m.
Dancing is not only a socially and physically fun activity for people but is extremely beneficial to seniors.
According to the New England Journal of Medicine, dancing is of course great to keep seniors physically fit, but by following complex dance steps, it is believed to also help lower the risk of dementia and Alzheimer's disease.
Eighty-year-old MaryAnn Bratton of Chino Valley is certainly proof of how staying active can keep a person fit and young at heart.
"I am an active person," Mary Ann said. "I can't stand not being busy and doing something. My passion has always been dancing, but I also love the outdoors, hiking, rock hunting and just anything that is being out in nature."
MaryAnn was born and raised in Milwaukee, Wis. With the financial help of relatives, she was able to take tap dancing lessons as a child, at 10 cents a lesson.
Mary Ann started working at the young age of 16 in a hosiery company.
"The war had just started, so I was very lucky to have a job at 16 cents an hour, which at that time was a lot of money," Mary Ann recalled.. "With that money, I paid my mom $8 every two weeks to help her and paid to ride the street car each day to work. Sometimes I would have money enough left over to buy a dress or a pair of shoes. I really thought I was rich.".
In the 1950s MaryAnn joined a tap dancing group and they would perform around the Maryland and D.C. areas.
MaryAnn got out of dancing after she married because her husband was in the military and they moved a lot.
"I did have my daughter, Marti, in dance class at the age of four, and she is still dancing to this day," Mary Ann said. "She has her dance recitals at Yavapai College, and I'm still the proud 80-year-old mother in the front row."
MaryAnn and her husband, Dale, moved to Chino Valley in 1984 because they liked the rural atmosphere.
About 10 years ago she joined the line dancing class at the Chino Valley Senior Center. The class meets every Wednesday from 3-5 p.m. The senior center is at 1021 W. Butterfield Road.
"If you want to have an enjoyable two hours, come and join the class," MaryAnn said to people in the community. "Right now there are about 15 ladies in the group, and it is open to anyone."
MaryAnn's advice to other seniors is to get up and get active.
" Don't let yourself become a couch potato. Don't let your physical ailments stop you. I have arthritis in my knee and will have to have surgery to fix it, but I still go to line dancing and try to walk as much as I can."
And her final comment:
"Don't let your age stop you!"